Unwilling to truly admit that another set of dear friends will take off come the end of the month yet going through certain motions regardless, the Harrington's planned and executed a weekend road trip to Gyeongju with Jon and Whitney. Wanting to make the most of the weekend the crew loaded up the Matiz on Friday night, stopped at Daejeon's only drive-thru (a McDonald's of course) and made their way out of town...kind of.
Since becoming a driving family in Korea, the Harrington's have been learning that street signs are not entirely helpful, especially within the city. Generally, signs are placed about two inches prior to the turn leaving the driver to watch their street go by and soon realize the next series of streets are more labyrinthal than grid-style and leave the hopeless driver mazing through the streets in a hunt for the ill-placed sign that caused the problem in the first place. The Harrington's (along with Jon and Whitney) hypothesize that once-upon-a-time Korea began putting up signs and were about to adjust various aspects to make them more amiable to the driver when they realized, everyone has a GPS, who needs signage? Needless to say, the most difficult part of any road trip is leaving the city.
Once on the expressway however, Gyeongju was only a short 2 hour drive away. Thrilled to be out and exploring the great peninsula of Kimchi-lovers in a city renowned for it's historical significance the crew stopped at
Anapji Pond
to take in the peaceful night scence where once existed part of the Silla dynasty palace complex. Complete with mood lighting and soft music in the background, the pond was truly glorious and did a wonder to calm any nerves on high alert from the maze-like streets of Daejeon.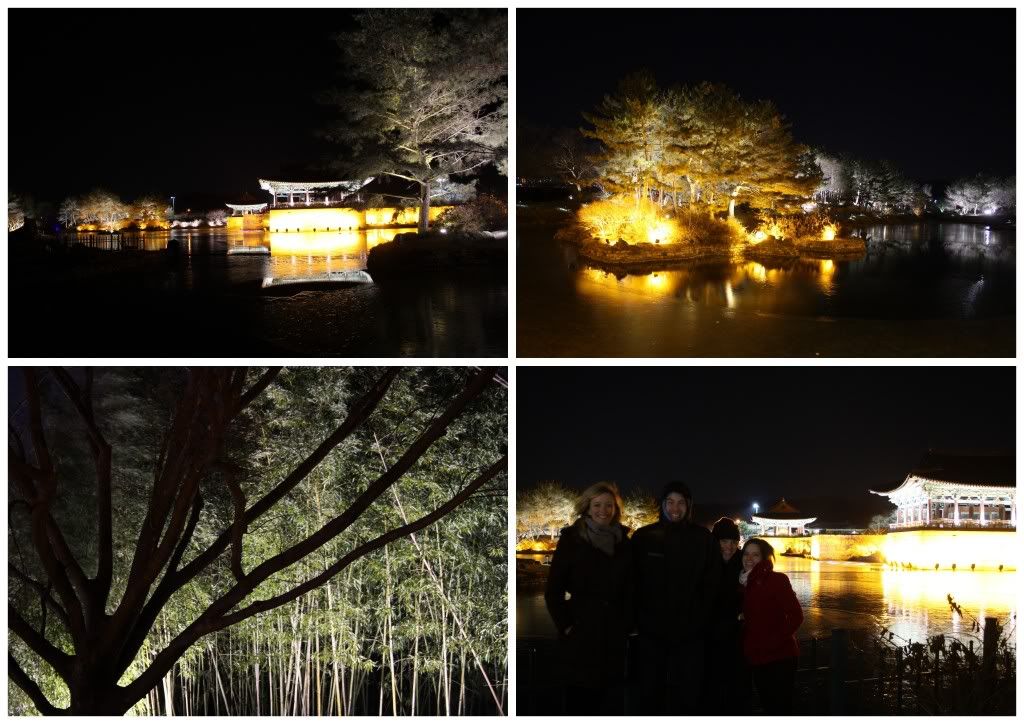 Hearing what was assumed to be the 'last call' over the Pond's loudspeakers, the Harrington's and friends reloaded into the car and set out to find cheap accomodations and a nice place to share a pitcher of beer. As is generally the case, the cheapest (and most well 'lit') accomodations were near the Bus Terminal of the city. Here the crew debated between 'Happy Time Hotel', 'Liebe Hotel' and 'Dollar Hotel' among others, before settling on Seorim (?) Hotel for the meager amount of 25,000 Won ($25US). For those familiar with Korean Love Motels, this one was quite mild and provided a rather reasonable sleeping experience. For those unfamiliar with Korean Love Motels, stay tuned to the Harrington Times for a more detailed report later.
With a place to sleep secured, the crew took a short walk before ducking into Loss Time bar to share a pitcher of beer and end the first night of the Road Trip in true road trip fashion!