If you happen to find yourself in Korea during the month of January, it is not a bad idea to check out the locations of Korea's numerous Snow and/or Ice Fishing Festivals. The best site for discovering dates and basic premises of Korea's festivals is
this site here
- many of the festival pages will provide a link to more detailed festival information although perhaps in Korean.
Wanting to be 'in the loop' regarding Korean Festivals, the Harrington's were thrilled to find that during their vacation period there would indeed be a snow festival in the northeastern province of Gangwon-do. Taebaek, the host city would provide a festival atmosphere set at the base of a majestic mountain, accented by a variety of snow sculptures built by art students from around the peninsula and even offer attendees the opportunity to sit and enjoy a cup of hot choco in an igloo cafe.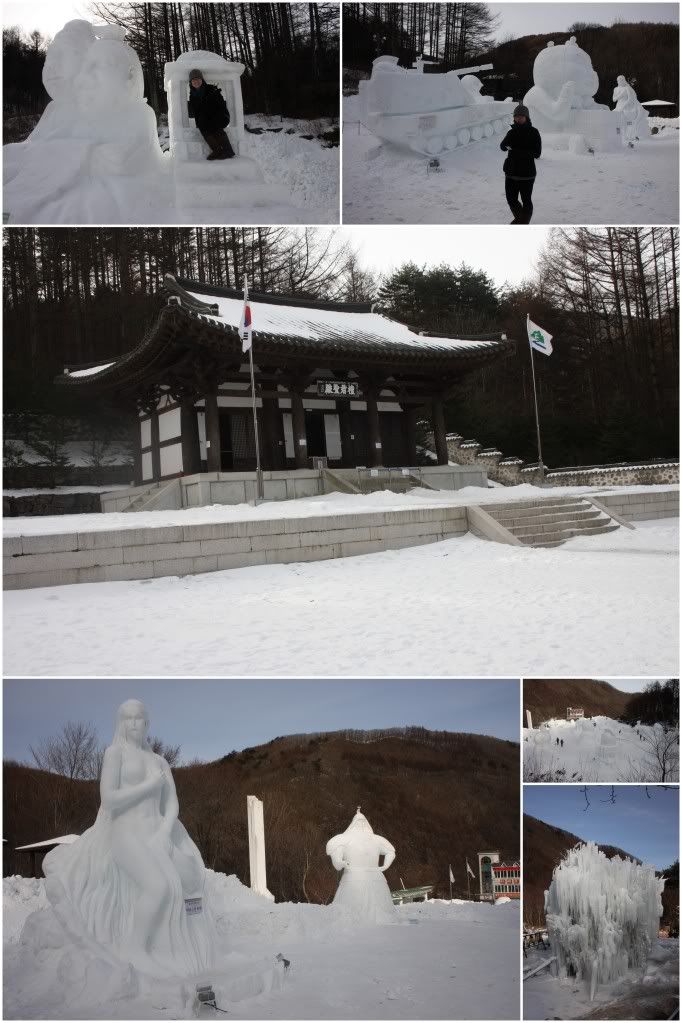 Rumours abounded that the festival may be cancelled due to
recent outbreaks of foot and mouth disease
which have Korea in a bit of an uproar. However, the sculptures were presented, the igloo prepared, a hill for sledding provided and a beautiful winter day greeted the Harrington's on January 21st when they made their way to the base of Taebaek and enjoyed a few hours photographing and enjoying snow sculptures as well as learning about the coal industry of Korea at the Taebaek Coal Museum. Should you come from a location which does not frequently enjoy snow, the festival is a must, if you simply have nothing to do and wish to enjoy a long train or bus ride, the festival may be worth it and will definitely provide you something to do.
Getting There: The slow train will take a passenger from Daejeon to Jaecheon for a transfer to Taebaek (approximately 15,000W). As with most destinations during off season travel, one may also show up to an inter-city bus terminal and ask to go to Taebaek and likely receive the next available ticket to do so. From Daejeon, it's a bit of a journey through some gorgeous Korean terrain, so be sure to have a good book on hand.
When to Go: The festival is at the tail end of January although this area of Korea is gorgeous (most likely) all year round!