Unlike the typical academic calendar in the United States which offers a short (2-week) winter vacation and a long (3 month) summer vacation, Korea offers approximate 2 months in both the winter and summer (although, this summer will only be a week or two over one month). Regardless of these differences, the truth is, for westerners who are used to hitting summer livin' late in May or early in June having to work through July and conduct camps into August makes for a less than anticipated summer vacation. Therefore, each educator easily embraces any and every holiday, even those that fall on a Wednesday.
So it was, with joy in their hearts and a mid-week chance to sleep in, that the Harrington's found themselves getting together with good friends Hyunhee and Hakcheol for a short road trip toward Jochiwon where they would explore Bear Tree Park.
Having been to the zoo at Everland and having observed the general approach to animals, such as Lady, expressed by the average Korean, the Harrington's were a little nervous about what they may find within the grounds of Bear Tree Park.
Upon entering, the couple was impressed by the greenery, landscape and large yet classy restaurant and restroom stop that greeted them. Relatively eager to see how a bear park plays out in South Korea the Harrington's allowed Hyunhee and Hakcheol to lead them to the promised 150 bears inhabiting the park.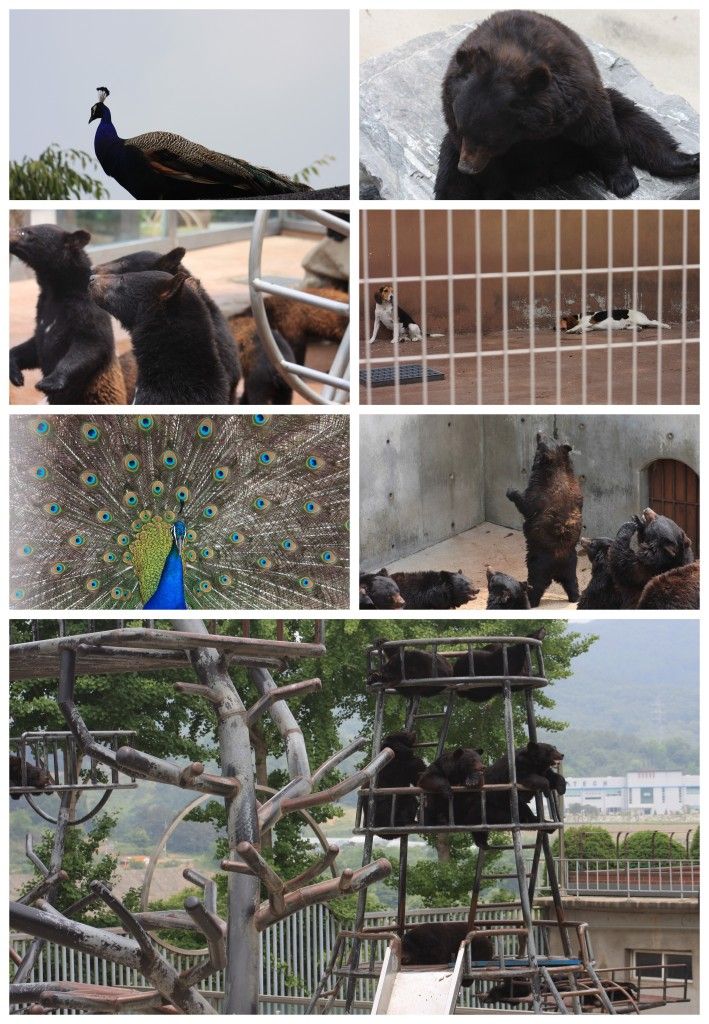 Before reaching the "main attraction", the crew stopped in the 'Pet Park' which was a series of concrete and wire sections holding a variety of animals including young half moon bears, peacocks, goats, guinea pigs, beagles and daschunds. Yes, you read that correctly, goats and dogs as zoo animals, not entirely uncommon in Asia from what the Harrington's have heard from the experiences of others.
Feeling disheartened by the living conditions of these animals, the crew boldly rounded the corner to the "main attraction" of adult bears sectioned into four concrete bottomed "homes" with high fences, steal hamster wheels and steel trees/climbing structures. Additionally, these bears were 'fortunate' to receive the continuous gift of food falling from the sky in the form of carrots and specialized ho-do kwaja (a popular Korean sweet, a warm, red-bean paste filled cake/cookie).
The Harrington's and Kim's quickly continued on their way where they rebelliously ate the lunch they packed in regardless of park regulations and eventually made their way to the Koi ponds where things didn't feel so dark and desperate.
The afternoon continued with random photo taking sessions (trying to capture the perfect 'North Korean' pose - not an easy task) and taking in the joy that is and always will be green parks, blue skies and well kept bonsai tree exhibits.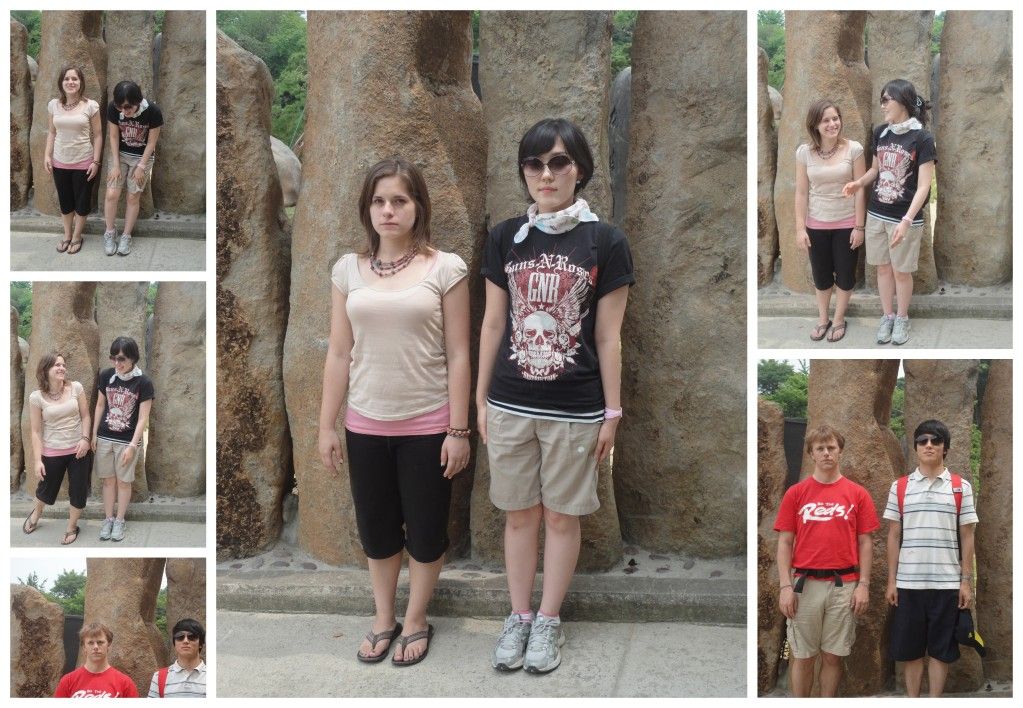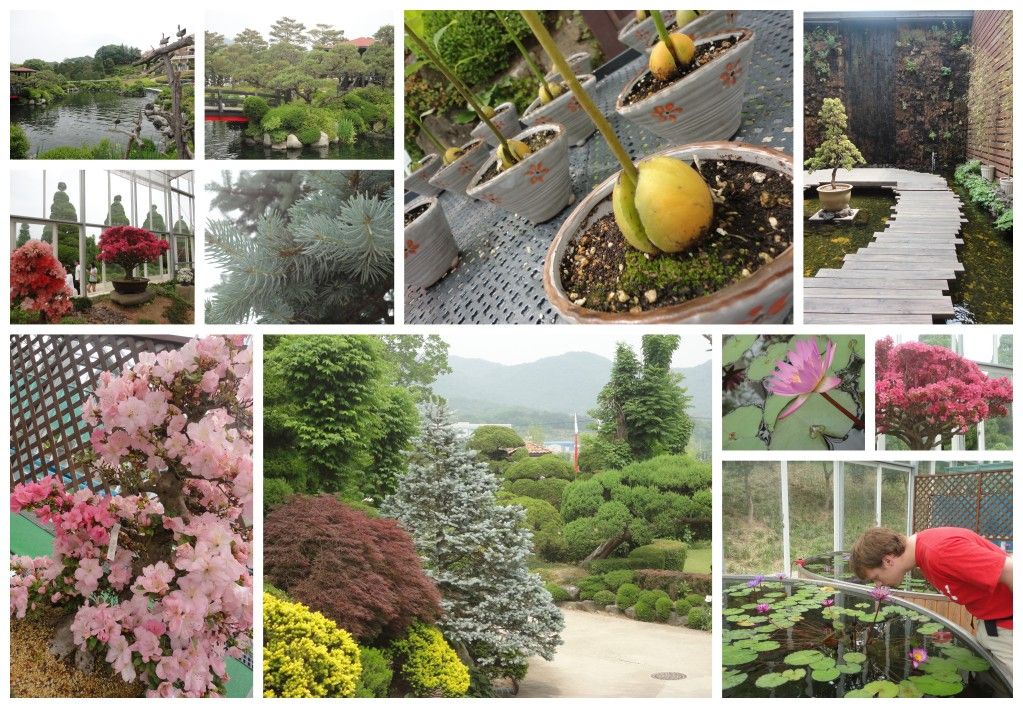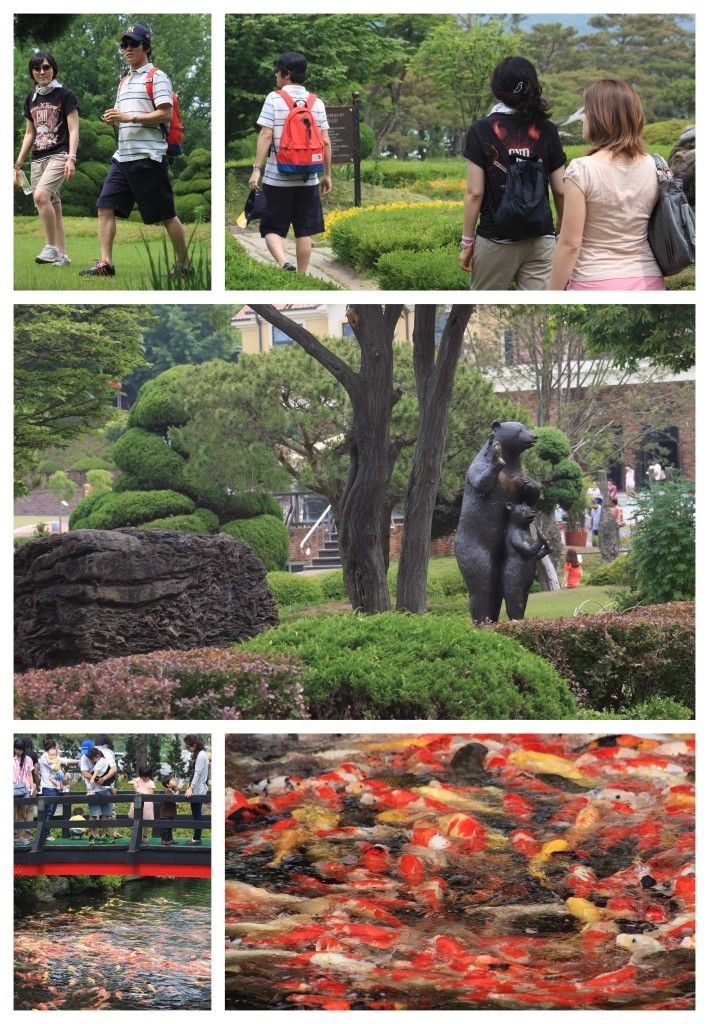 From Bear Tree Park the couples' headed back toward Daejeon making a lazy afternoon stop at Hyunhee's father's farm, but that story is worthy of it's own post. For now, say a prayer for the animals of Bear Tree Park and enjoy your summer season wherever you may be (or winter if you happen to be south of the hemisphere).