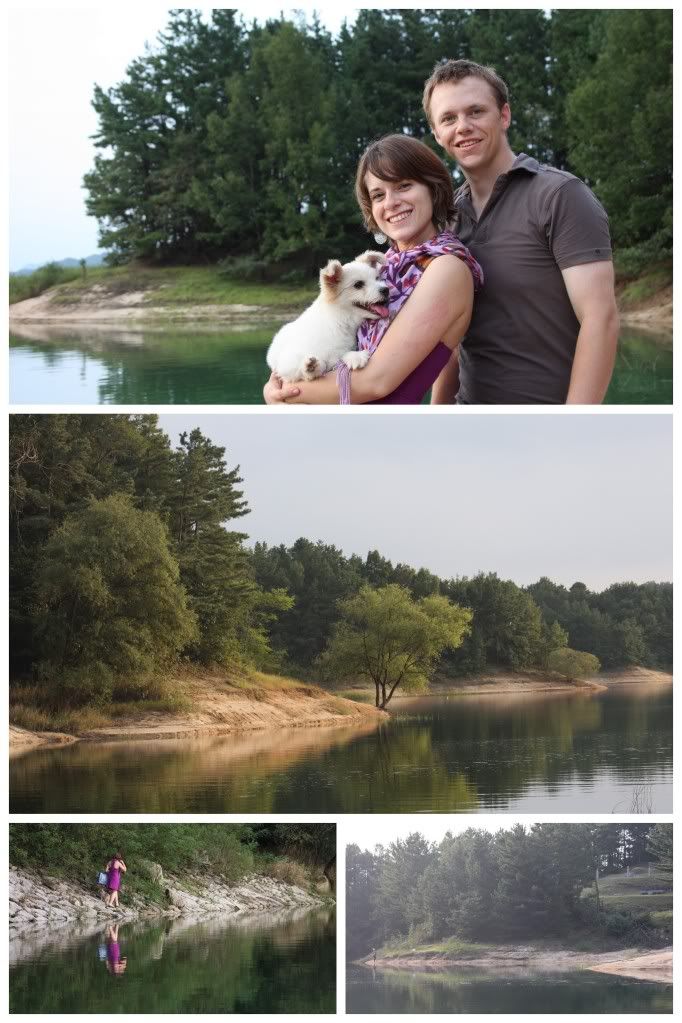 Having enjoyed their anniversary in the company of students, new friends and established friends, the Harrington's deemed it necessary and acceptable to set an evening aside for themselves. The couple loaded up the car with their faithful side-kick Lady Annyeong and a picnic dinner before making their way outside of Daejeon to Daecheong Lake.
The two enjoyed a simple pesto pasta, hard boiled eggs and home-made ginger ale on the lake shore before taking some time to explore this particular nook of the lake and capture a few 'family photos' while the lighting was perfect. The exploration of the lake shore not only offered serene scenery and opportune photo shots, exploration also included a healthy dose of adventure, particularly for the Lady and the Mrs.
Assuming walking along the edge of the lake would provide the easiest route to meet up with the man for continued exploration Melissa soon found herself carrying a dog and facing a tree that effectively prevented her from continuing along the lake shore. Hardly phased, Melissa opted to go around the tree and continue on...however, in a country such as Korea where the forest floors and mountains are actually quite thick with vegetation, this proved a difficult and formidable task. Within minutes, angry vines were lashing out at both Lady and Melissa, preventing the ascension to higher ground. When vines weren't grabbing clothes and hair, cobwebs were in the waiting ready to stick to increasingly sweaty skin. A close look at one of these webs inhabitants resulted in a shriek and quick escape back to the lake shore where the Lady and the Mrs. chose to back track completely before finally arriving in the presence of their beloved Man.
Together, as a family, free from vines and spiders in their hair, the trio explored some safer ground, captured a few family photos (that's correct, the photos are post vine wrestling!) and made their way into town to enjoy an evening of video games (for Mike) and wine-sipping (for Melissa) with a couple of friends.
And so began the fifth year of marriage.