The weekend of July 18th the Harrington's found themselves on the road with Kolt and Holly Callaway, drinking smoothies from a Ziploc and hoping that
Everland
would live up to it's hype. Just under a couple of hours by Kia Matiz and the couples were parking, gathering thier water, cameras and peanut butter jelly sandwiches and heading into the main gates of South Korea's Everland Amusement Park owned by one of Korea's leading companies, Samsung. Upon entering the park, the couples were greeted by the magic of dolphins hanging from trees and European mountain scenes...it was bound to be a good day.
Not wanting to waste any time, the group of four quickly made their way to Everland's claim to fame, the T-Express. Known for being the world's steepest wooden roller-coaster, T-Express draws in the crowds year round. For the Harrington's and Callaways, the T-Express was first on the list of rides to ride, and the four were far from disappointed. After a short 40-50 minutes of standing in line, the crew took their seats near the back of the coaster, buckled up and hoped for a thrilling ride. After a steep climb the couples were SHOCKED by how quickly and how steep the 'steepest wooden roller coaster' lets the riders fall into a series of twists, turns and near decapitations. Having survived the coaster once, the four friends made a few rounds in the animal 'kingdoms' before returning for another go on the T-Express. That's right, T-Express, 2 Times because they're champions!
For the Callaway's and the Mrs. of the Harrington clan, the animals always hold a special appeal. Everland's animals were no disappointment. From 'Wild Babies', to swimming seals, to acrobatic monkey's, prehistoric turtles to oddly functioning kangaroo's the animals of Everland are constantly entertaining and fascinating. Between one zoo enclave to the next, the four friends made their way into an animal show which highlighted birds that fetch 1,000 won bills, dogs that play pianos, and a myriad of animals that run across a stage. All in all, very good times to be had amongst the animals of Everland.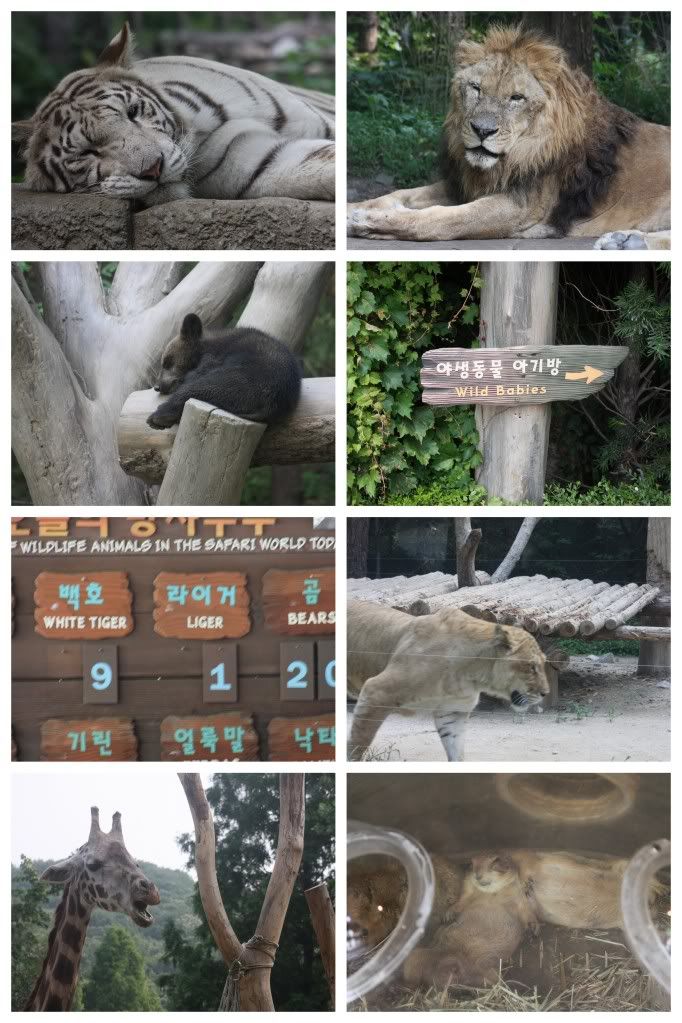 The following photo collage serves as a warning message to all who may one day venture to Everland. Should you be on your way to chow-down and have not been drinking much water nor eating, the following is not highly recommended. The Callaway's were not too thrilled with their decision to "Spin It" right before a picnic lunch. Learn from their mistakes dear readers, learn from their mistakes.
As is true of any day amongst Koreans, the opportunities for photos abound. Cute children and cute couples rule the lay of the land at Everland. For 35,000 - 38,000 Won, (check the Everland website or chat with Korean friends to find out about discounts) Everland is a perfect value. Food prices are reasonable (2,000 for Churro and 4,000 for Hot Dog, etc.), there is plenty to do, and the shows (animal, acrobatic, Summer Splash, Parade of Lights, etc.) are free of cost.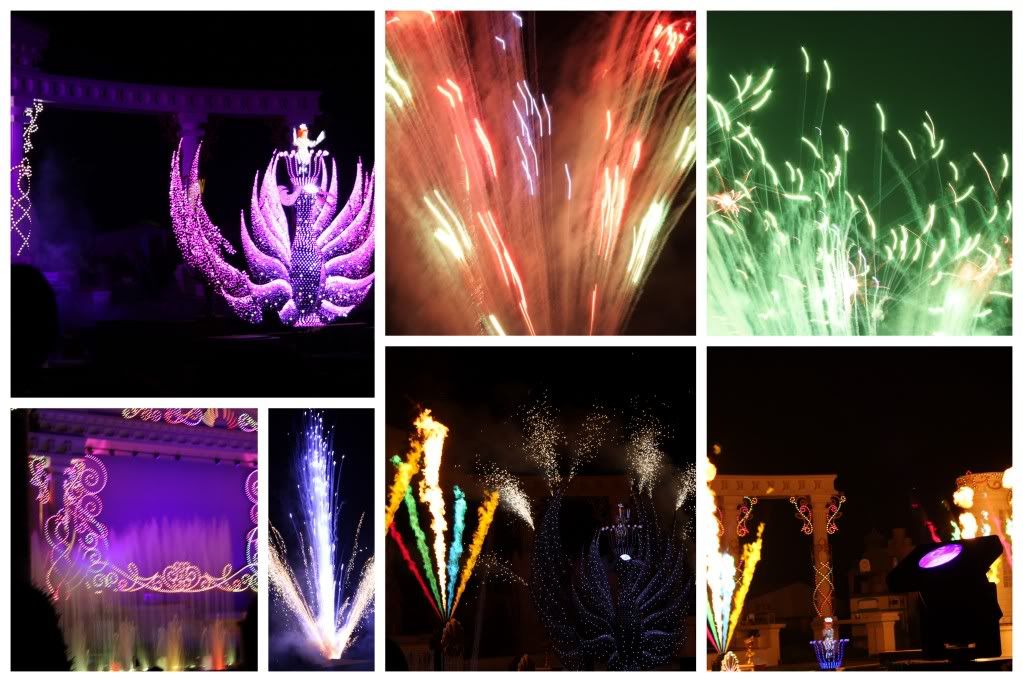 Were the Harrington's to make any complaints it would be only two things: 1) So many fake store fronts promising beer and European foods offer nothing of the sort and 2) There's not enough time in the day to do all that one would surely love do on their Holiday at Everland!
For a bit more insight, check out some video footage from the Harrington's day in Everland.
Getting There: The Everland website provides information regarding 3 buses that leave from Seoul. Tours likely go from other locations around South Korea. Everland attendees are best to team up with a driving friend or ask a Korean friend for assistance in finding the best way to go to Everland from their particular starting point.
When to go: Everland is open year round. Even on a Saturday in June, the park wasn't too busy, nor was the whether unbearable. From what can be gathered, the heart of summer (July and August) through the fall are the most busy but perhaps also the most comfortable times to be outdoors!