On Saturday, July 14th, the Harrington's loaded up the car and made the trek up to the big city for the second weekend in a row. Rather than setting out for the
1988 Olympic Park to watch a B-Boy competition
, the Harrington's were set to watch South Korea's 2012 Olympic Soccer Team compete against New Zealand before being warmly sent off with the love and support of their nation and a few native English teachers.
Opting to take advantage of the big city, the couple headed out early with intentions to tour some top Seoul sights before the set off for home. However, upon pulling into the parking lot of the World Cup Stadium and realizing there was an IMAX theater showing The Amazing Spiderman in 3D and plenty of other distractions to keep the couple occupied until the games start time, they opted to stay on the World Cup Stadium premises and make the most of the day.
After pre-purchasing their movie tickets, the couple ventured into the large HomePlus which occupies one quarter of the ground level of the World Cup Stadium where they enjoyed a spot of lunch in the food court before returning to the theater and settling in for some impressive IMAX 3D action.
Following the movie, the couple still had a few hours to kill and were thrilled to score a free Coca-Cola as they walked into the park bordering the stadium where they passed the time reading and being amazed at the seclusion possible in a city of millions on the border of the World Cup Stadium.
Soon enough, their bellies were asking for another round of nourishment which was met with a healthy dose of french fries, soda and fried chicken from KFC. With game time nearing, the couple made their way into the 2002 World Cup Stadium in anticipation of a win from South Korea's Olympic Soccer Team.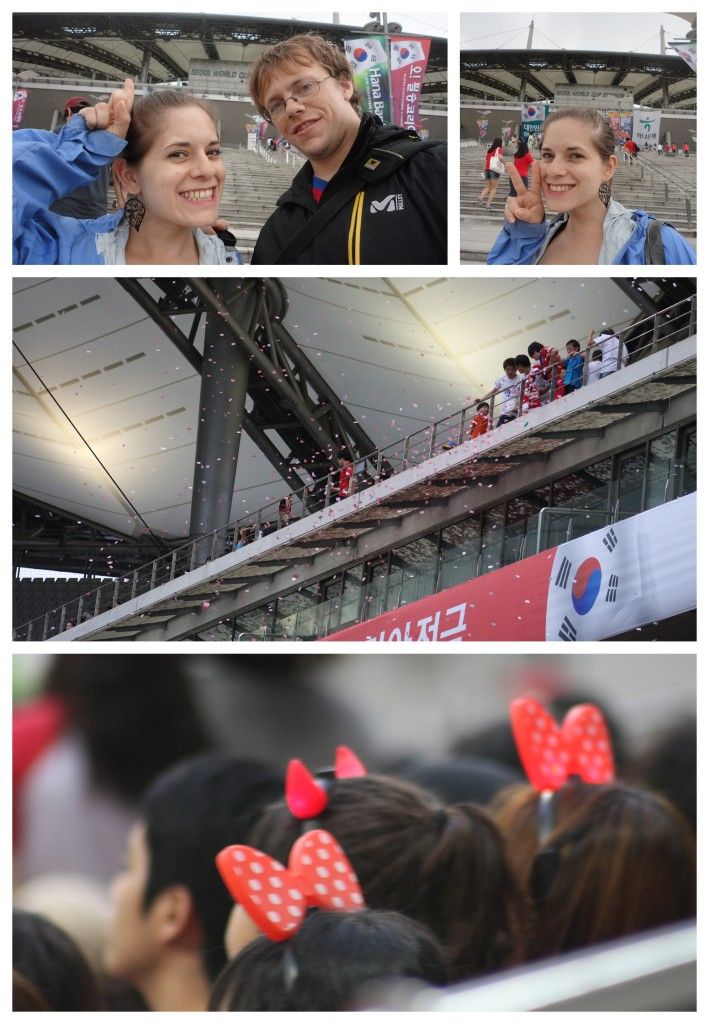 Interspersed with a few light showers, the game played out with South Korea reigning victorious, much to the pleasure and delight of the fans, many of whom were young women swooning over a handful of Korean players with cheers and shouts of love throughout the game. Following the game, a second performance commenced which showcased 2PM a popular Kpop Boy Band and many well-wishes for the upcoming Olympics in London. (To see how the men are doing,
click here
).