Living in Korea, working as an English as a Foreign Language Teacher means a consistent routine of saying good-bye to the friends who have become family yet have now opted to take on new jobs in new countries, return home, return to school, travel the world or any other number of activities. It is often draining and disheartening. However, knowing that friendships have been created that leave you feeling downhearted at their departure is rewarding in itself. Knowing that these friendships wouldn't have been possible if you hadn't made the leap yourself keeps the expat foreign teacher on the look out for the next irreplaceable friendship to bring value and wealth to their own life experience.
Six months ago, the Harrington's said good-bye to some incredibly dear friends, a set of which can confidently claim that they are the primary reason M'n'M ended up in Daejeon, South Korea in the first place, Matt and Jen Mullen. Mid-February, the same couple began a new stage in their travel and professional careers. The destination was China, the layover, South Korea, and the Harrington's couldn't have been more excited to reunite with these dear friends.
Arriving late on a Monday evening, the Mullen's and Harrington's stayed up later than necessary after hours on planes and in airports catching up and enjoying the ease of a friendship built to last and withstand miles. Unfortunately, the Harrington's would spend the days 'deskwarming' while the Mullen's relived a small piece of their South Korean lives. However, when the work day ended, the couples and other friends who continue to feed on kimchi were eager and ready to eat South Korea's finest delicacies (dalk-galbi and shabu-shabu), play a round of screen golf, sip cocktails and snack on walnut cookies, and spend a long wild night singing their hearts out at the no-rae bang. So while the days were spent adhering to their specific tasks, the nights left plentiful opportunities to reconnect, enjoy and celebrate all that is good and beautiful.
Dalk-galbi at 5.5 with the Mullens, Jacqui, Sunny and Aaron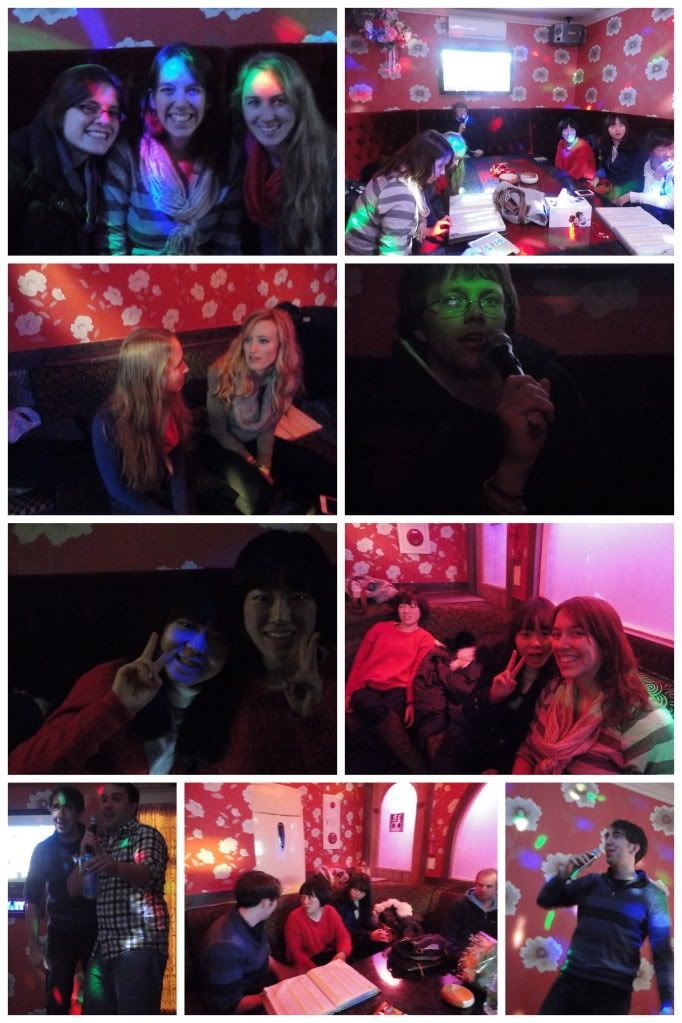 No-rae bang nights.


As soon as the reunion began however, things came to an end. The Harrington's were set to catch a flight to Kuala Lumpur before landing in Vietnam and the Mullen's for China. So after a night of singing and dancing and with a number of powerful female voices stuck in their heads, each couple set off for their next adventures, again giving thanks for this friendship that is more beautiful for having taken place in the ROK, if only for a season. (To read more about the Mullen's, check them out
here
.)
And what powerful female voices were stuck in their heads:
Kelly Clarkson - My Life Would Suck without You
No Doubt - I'm Just a Girl
Adele - Someone Like You
Whitney Houston - I wanna Dance with Somebody