And, the brew tour America continues! While the Harringtons do have some mighty fine things to say about Black Bottle Brewery, this post is just as much about reuniting with dearly beloved friends, truth be told, that's the most important part of this post. However, since the couple enjoyed the first two reunions while sipping pure deliciousness at Black Bottle Brewery, it may as well become part of what will hopefully become a small series: The Brew Tour series, obviously.

With the main purpose of travel being reunions with friends, the Harringtons quickly loaded the car on a Monday evening full of joy and anticipation at finally being reunited with their dear, bearded and flannel-ed friend, Mark. With a heart of gold and more than a single talent, Mark spends his days in Kansas City, Missouri serving the local community, making random wines, learning to play the banjo, etc. He's a friend that Mike has known since junior high school and who was convinced to live in Laramie for a time after having slept on the Harrington's laundry room floor. In every way, time with Mark is something many yearn for and enjoy when they get it, the Harringtons were no exception.

The trio opted to meet up at one of Fort Collin's new breweries, Black Bottle Brewery, and were overwhelmed, if not completely enamored by the list and variety of beers on tap. From their in-house brewed specials to beers which span the country and the best brewing regions of the world, Black Bottle Brewery put more than a few drinkable brews in front of the Harringtons, Mark and eventually, Dave.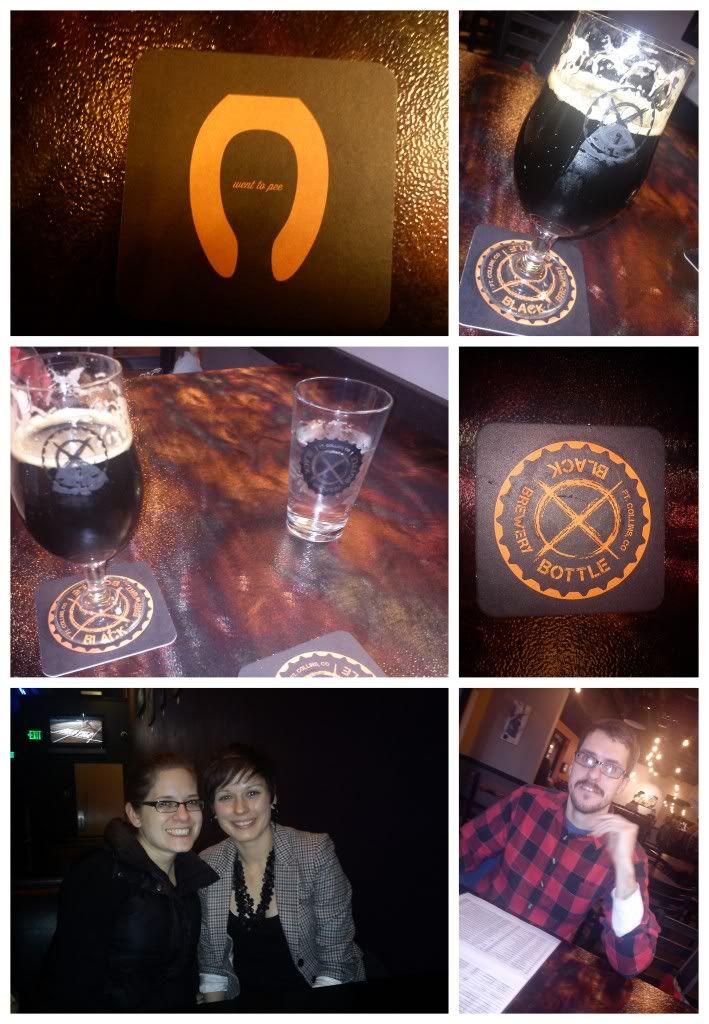 Being the lover of all beers dark and glorious, Melissa was head-over-heels in love with a
Chocolate Milk Stout
and something dark which had been aged in a Whiskey or Bourbon Barrel (however, we're not sure any of these remain at Black Bottle as
their beer list
is constantly changing and evolving...or the Harringtons have a horrible memory, either is possible). Black Bottle Brewery also offered the couple their first
Sour Ale
and
Barley Wine
experiences, both of which were beyond enjoyable. The only disappointments experienced at Black Bottle Brewing were: a) having to say good-bye to Dave before heading on to the next adventure and b) the portion of the food items...delicious food items (beer cheese soup, pastry-wrapped Brie with jam), just smaller than what any felt was reasonable in terms of price - but no big deal, the main purpose was reuniting and drinking fine beer!
After this enjoyable outing, the Harringtons and Mark made their way to Luscious Nectar, a juice bar/tapas bar/vodka infusions bar, where they enjoyed wrapping their arms around the ever-lovely, welcoming, and extremely fashionable Liz. Mike, Mark and Liz played a little small-town catch-up and soon the crew was simply enjoying reuniting, catching up, trying bacon-wrapped this and hummus dip that with a shared taste of pipe-tobacco vodka.
Before long, it was obvious that Tuesday would be quickly approaching and work would be begging our presence. Reluctantly, the Harringtons enjoyed another round of hugs and made their way up north, back to Laramie and back to working-man reality. Although, come Tuesday morning, they'd have the fond memories of reunions which are only possible this side of the globe to carry them through and remind them of all that life has already given them and promises to continue offering.