Still hoping to experience Daejeon for all her shining glory, Melissa and Haleh found themselves riding the subway to Jungangro Sub Station to enjoy some underground shopping as well as some above ground street vendors. However, Korea is a night-owl of a country and 10 am proved to be a bit early for exploring this nook of Daejeon. The girls had no problem purusing the shops of the sprawling underground shops, taking a few 'touristy' photos and spending some time in one of Korea's dear coffee-chains: Holly's Coffee.

A variety of coffee shop locations are perfect for winter days of touring in Korea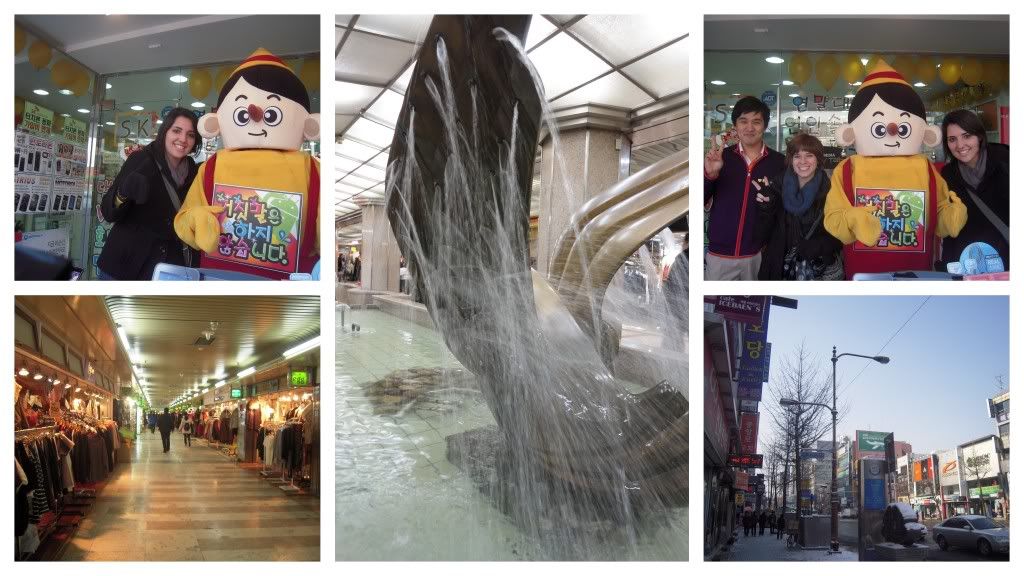 Above and Below ground there are many ways for visitors to be entertained.


Deliciousness is easy to find on the streets of a Korean city
The highlight of the day spent in old downtown however was the frequency and deliciousness of the foods available once this little Daejeon neighborhood began to wake-up. The ladies enjoyed freshly roasted chestnuts, walnut cookies, baguettes filled with meat and cabbage (imagine a runza but more amazing and cheaper), cream filled waffles and fresh squeezed juice, ALL for 10,000 Won combined - an average of 1,000 won per food item delighted in while shopping and meandering the streets. And, of course, the good food didn't stop there. The girls were able to join up with Mike Harrington after he put in a long day at Nameson Middle School and enjoy a Korean favorite of samgyupsal - three layer meat also known as the most delicious, thick and perfectly grilled pork belly known to man.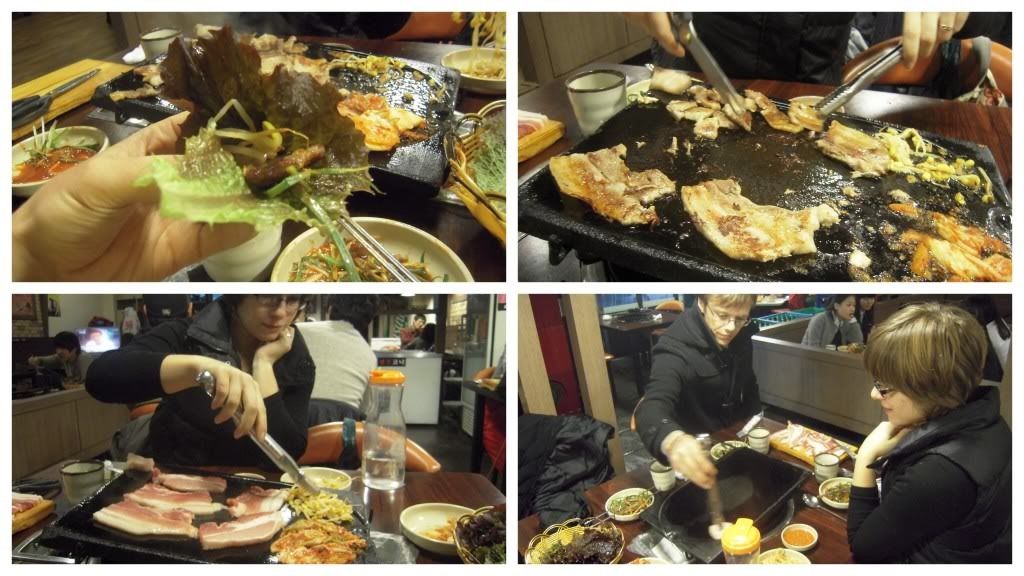 Samgyupsal

Groovy Ethnic Bar
Following dinner the group of three made their way to a reputable joint by the name of Ethnic Bar located in Dunsan-dong for a Korean-style Strawberry Daquiri (Soju and strawberries). The icy pitcher was enjoyed in the dimly lit cave-like atmosphere of Ethnic Bar providing the perfect closure to an all-out 'It's Daejeon!' Day.