On Friday morning the Harrington's enjoyed a tasty treat available from the one and only Brass Plum in Worland, WY – cinnamon twists. Sugary and buttery these delectable delights are highly desirable amongst the residents of the Harrington household and for good reason. Having a fresh and sweet start, Mike and Melissa loaded up the little gold car (which was graciously lent by Nate and Lisa) and made their way to a family lunch date with John, Susan, Ryan and Rachel in Cody, WY.
Filled with the deliciousness that is Mexican cuisine, the Harrington duo hit the road once again and found themselves in Red Lodge Montana for the second-round of family reunions. With an impressive showing, the Rigg Family spent the weekend of August 12-14 hittin' up the local Red Lodge Ales brewery, swingin' some clubs on the golf course, shootin' hoops, bumpin' passes in the sand, scavenger huntin', chattin' and simply enjoyin' one another's company.
The well organized and executed event offered all ages of Rigg family members a chance to relax, rest, dine, play, catch-up and enjoy the love that is available only amongst family. Aside from the aforementioned activities which are easy enough to picture on one's own, the majority of the crew also enjoyed a not so ordinary event in the little ole town of Bearcreek, Montana: Pig Races.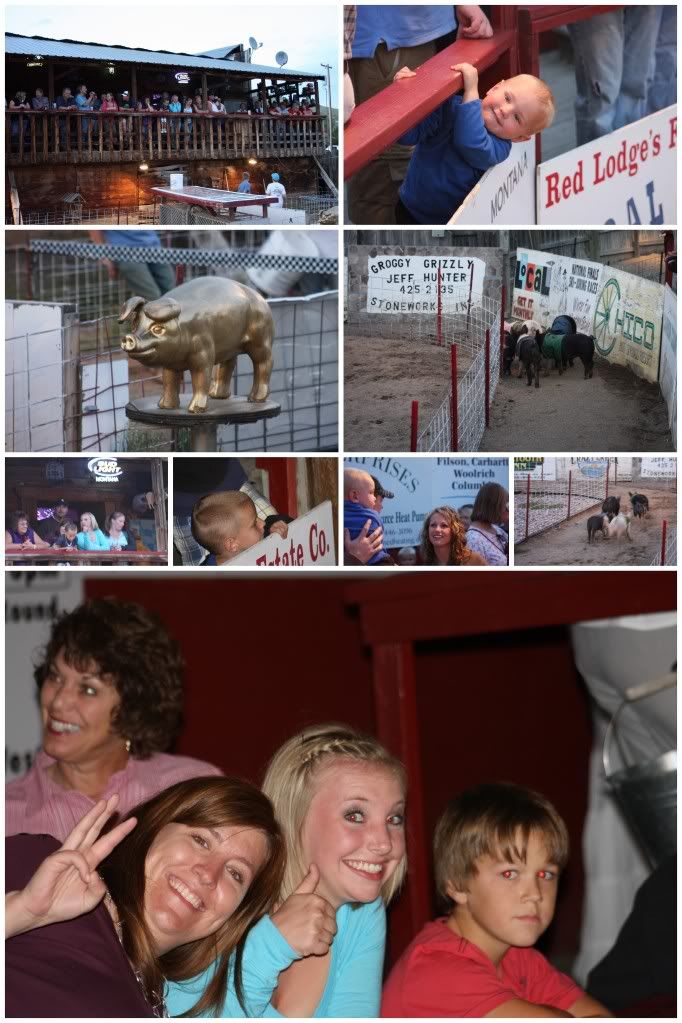 Throughout the summer months, residents and tourists of the Red Lodge area can make a quick little jaunt down the road and take their chances bettin' on the pigs. The evening provided a number of laughs as well as a few wins and losses amongst the Rigg family before the whole crew made their way back to cabin accommodation for a final nights rest.
The morning was saved for good-byes and breakfast at the Regis before our favorite duo made their way back across that good ole Wyoming border for one of their most beloved Washakie County summer traditions.