While posting about vacations in Vietnam is full of joy and fond memories, the end of such a series brings The Harrington Times to one of the 'tougher' issues facing expats in Korea and other locations around the world, saying good-bye to dear friends as they close their Korea chapters out of sync with our own.
While in route from Incheon International Airport, the Harrington's dear friends J and W were having a final celebratory night of good food, a few too many drinks and singing at the no-rae bang with a large number of their Daejeon friends. Fortunately, the Harrington's had had enough foresight to realize J and W would likely be scheduled to leave at about the same time the Harrington's would return from winter vacation number 2, that being understood, the Harrington's eagerly invited J and W to crash on their couch a few days after being 'homeless' in Korea to ensure a few more memory-making opportunities.
So it was, during the days the Harrington's went into their respective schools and warmed up the lonely chairs, keyboards and English classrooms that so desperately yearned for company while J and W took care of sending home packages, preparing for their European adventures and other end-of-stay tasks.
The nights however were spent living it up together and embracing the final days of vacation and close proximity to friends who had become family while living the life of an expat.
During their three days and four nights with the Harrington's there was a large focus on eating Korean favorites starting with a Saturday lunch of kimbap, bibimbap, kimchi tuna fried rice and more followed with a stop in Dunsan-dong's new yogurt shop Snow Spoon where guests pay for yogurt and toppings by weight and where the lunch crew enjoyed a fantastic variety of yogurts and Grand Opening gifts including cookies and Americanos and Cakes - all free of charge. Dining joy continued as the couples enjoyed Gojuchang bulgogi (spicy pork in lettuce wraps with cheesy rice to follow), home-made donkatsu (fried pork cutlet) and shabu-shabu followed by delicious noodle soup over the course of the next few days.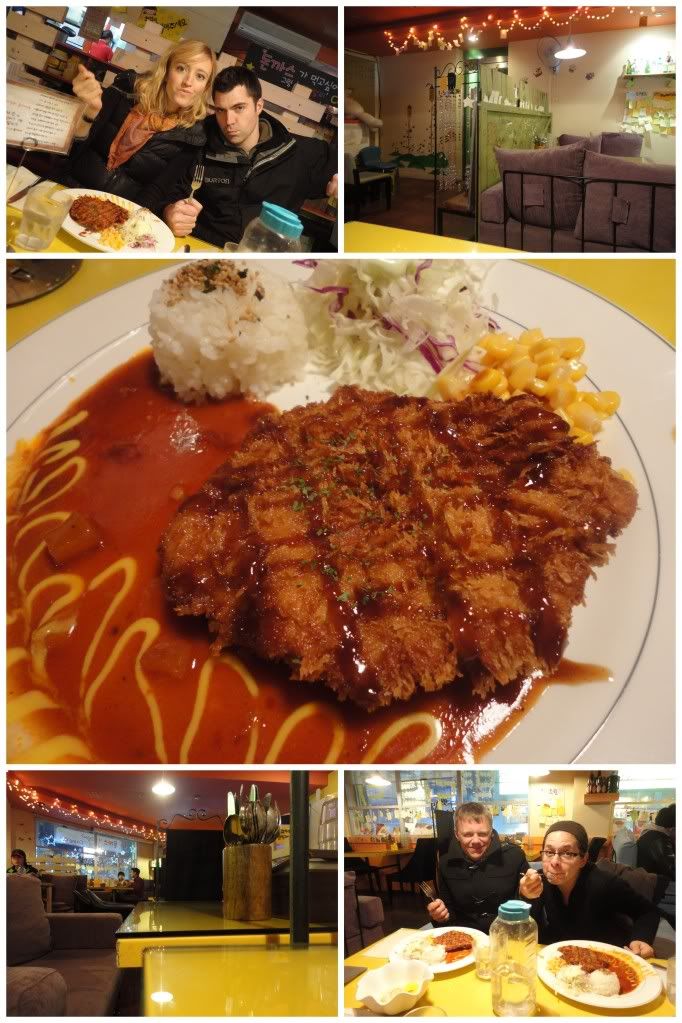 Aside from hours on end of chatting and enjoying the moment, the Harrington's as well as J and W and good friend and sofa-sleeper Aaron all gathered one night for a hilarious game of
Quelf which featured not only Persimmon wine and home-brewed beers, but also a surprise photo shoot, a few songs, poems and random stunts that left everyone feeling a bit healthier after a strong dose of laughter.
Unfortunately, as the olde adage goes, all good things must come to an end and the easy, consistent presence of these friends came to end on Wednesday morning as we dragged ourselves out of bed to say a sleepy, heartfelt good-bye to the couple that motivated and entertained over the course of the Harrington's first year and half.
Rather than sulk, the Harrington's continually remind themselves of the great fortune they have had in getting to know so many beautiful and fantastic individuals while living in a highly transitional community, not to say they wouldn't welcome any of the friends who have left back into their Korea lives in a heartbeat...you know who you are!