Pulling into Rach Gia the Harrington's were initially dropped off at the bus station which is essentially in no man's land. Fortunately, the couples fantastic CouchSurfing friends had prepared the couple and the bus driver to ensure the couple made it into the city. After arriving at the bus station then, the Harrington's were instructed to sit and wait for the free shuttle into town. The shuttle was free and was essentially just one of the guys manning the desk who happened to have a connection with a guesthouse in the city where the couple found themselves handing over their passports and agreeing to spend the night (all for around $10US, so no big deal really).
First order of business for the couple was tracking down the SuperDong Hydrofoil Terminal which was conveniently across the street from their guesthouse. Here, Nguyen had earlier called in reservations for the couple to make their way to Phu Quoc Island. With tickets in hand and a place to sleep the Harrington's began to meander the city and enjoy their last night on the mainland of Vietnam.
The final day on the mainland proceeded in the following, simple fashion: walking, chatting, sitting, chatting. walking, stopping for fresh papaya and carrot smoothies at an outdoor cafe, walking, crossing bridges, chatting, sitting in a plaza, watching motorbikes zoom by, watching women in pajamas walk circles around the plaza, taking photos, looking for dinner, eating noodles with mystery ingredients and a glass of sugar cane juice all for less than $2US, returning to the hotel, sleeping, using the internet and sleeping.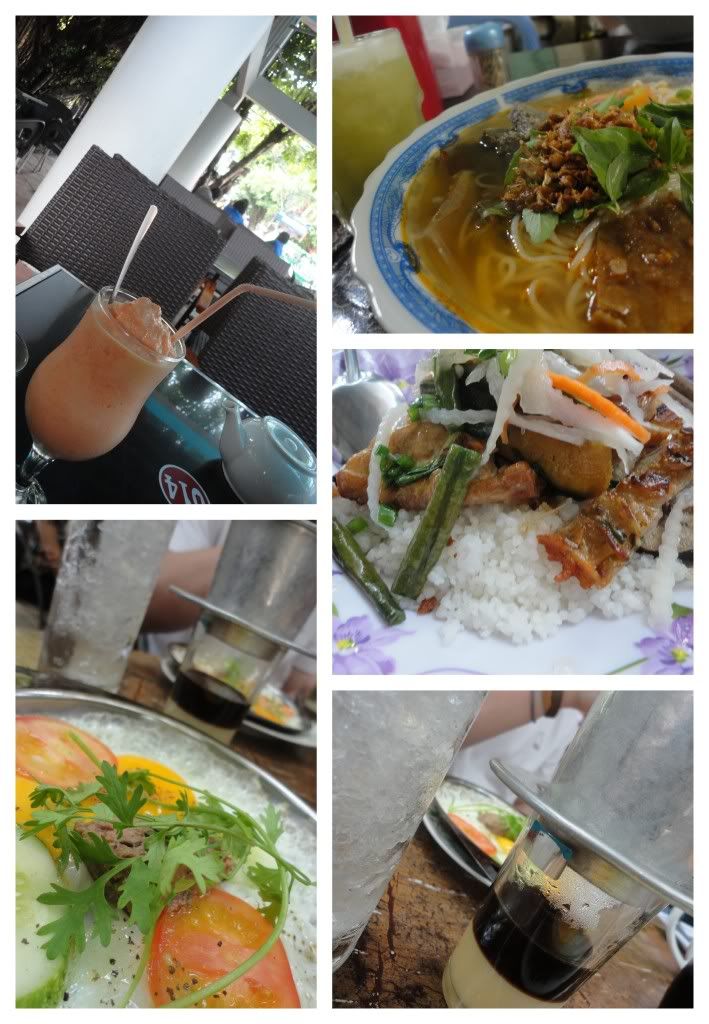 The next morning began in a large and lovely cafe where the couple enjoyed eggs with fresh cilantro and a small baguette, fruit juice and Vietnamese coffee before wandering through the school grounds and the city in search of a 'Hot Toc' - Barber. Having seen numerous barbers throughout their days in the delta, the couple quickly stepped off the main road and were happy to find a barber ready and willing to tackle the man's mop. While Mike was trimmed up and prepared for the sun and waves of Phu Quoc, Melissa made friends with a relative of the barber eating green papaya dipped in chili salt and answering questions from a phrasebook.
Wanting to ensure an enjoyable ocean voyage, the couple stopped in a little restaurant near the ferry terminal for some foreigner taxed Pho before boarding the ferry and making their way to their final Vietnam destination.