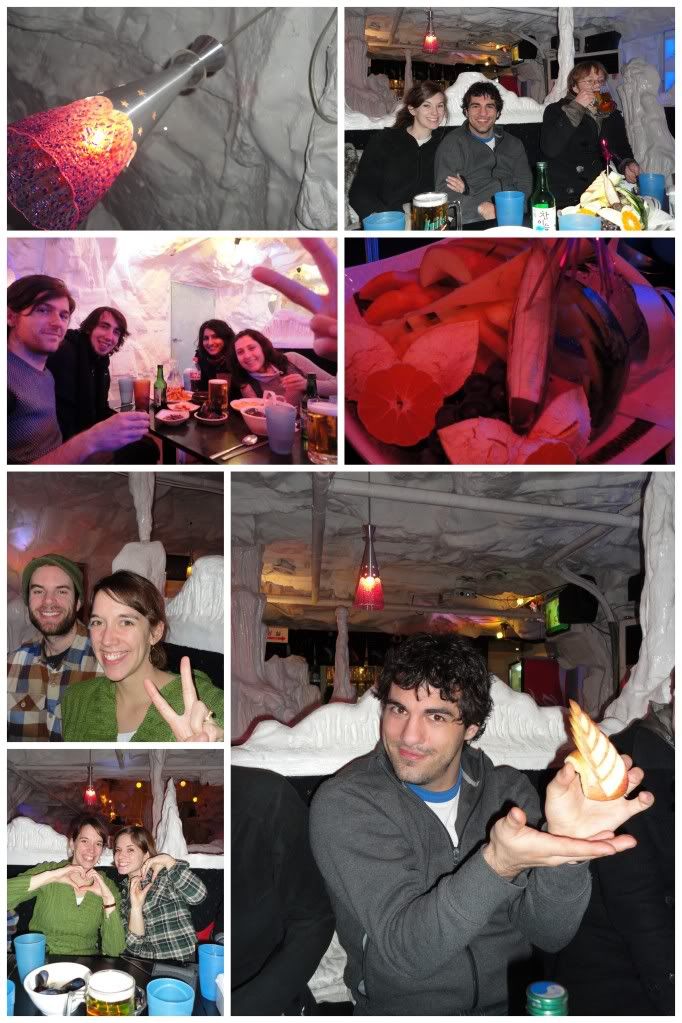 Thanks to the Lunar/Chinese New Year, the Harrington's had the great pleasure of relaxing at home for an entire week with next to no obligations. One obligation that the Harrington's took one with great enthusiasm and joy was to host a couple of CouchSurfers for two nights while they enjoyed a couple of days skiing at nearby Muju Resort. The couple currently resides in Shanghai working in architecture however their homelands were Italy and Turkey. Upon their arrival, the Harrington's ushered the couple to old downtown (Eunhang-dong) for some street food snacking and a Korean bar experience.
With a group of Guest English Teachers the Harrington's and their CouchSurfers enjoyed baguettes filled with sauted cabbage, beef, peppers, mustard and other sauces, bulgogi burgers and chicken on skewers. From street side stands to underground shopping centers, the crew made their way toward the waffle and juice stands to 'top off' their street dining experience. Bellies full, the crew began meandering the streets in pursuit of a nice bar atmosphere to drink a bit of beer and soju. The bar they entered (pictured above) had a glittery, fantastical, arctic atmosphere akin to drinking in an ice cave. The bar also required patrons to order food, not just beverages (something that happens more often than the Harrington's would like). Regardless, the group ordered and were soon enjoying a gorgeous fruit platter, fries, muscles, snails, and cajun-like chicken.
Having done a bit of damage in an underground ice cave, the Harrington's with CouchSurfers in tow returned to their apartment and turned in for a good nights sleep. The next couple of days the CouchSurfers hit the slopes while Mike and Melissa hit books, TV, and cookie dough.
After two great days skiing, the CouchSurfers returned and were eager to try a favorite Korean food of the Harrington's sam-gyeop-sal, thick sliced pork, grilled with kimchi placed in a lettuce wrap, shoved in the mouth to be thoroughly enjoyed. Upon finishing the meal, the four made their way to In-D bar to enjoy a cocktail and conversations about travelling, skiing, eating, and being.
Prior to making their final departure from Daejeon, the CS couple made their way to Expo park before continuing on to Iksan for the continuation of their Korean tour. As always, the Harrington's loved hosting these CouchSurfers and continue to be thrilled that their couch (floor space) is receiving good and semi-constant use.