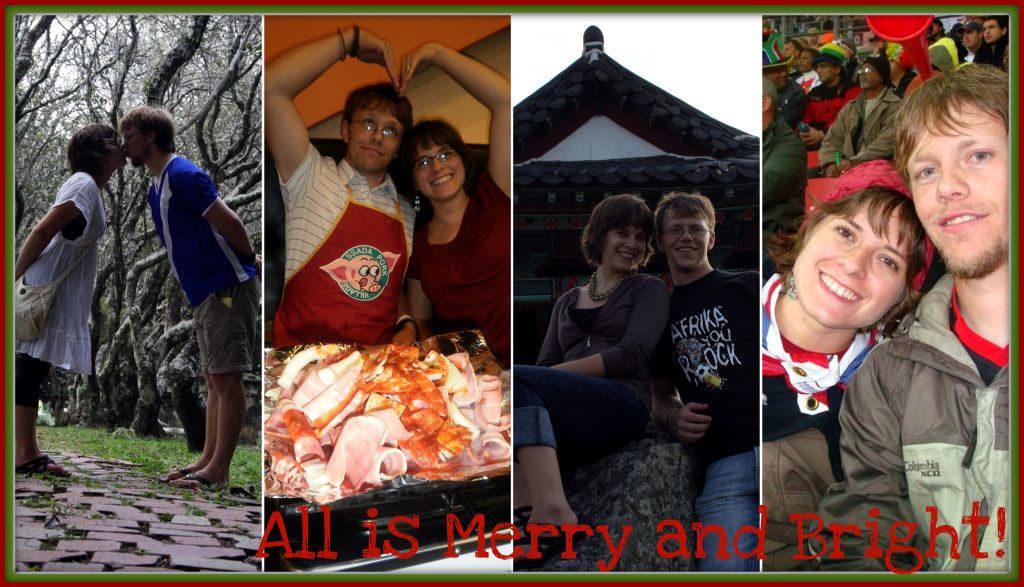 The Harrington Times would like to take a moment to wish all their readers a very Merry Christmas. The Harrington's are beyond honored and blessed by your readership, friendship and kinship. The couple would love to thank of you each personally for the joy you've added to their lives, the support you've shown, the effort you've made to stay in touch and keep connected. This journey would more difficult, less rewarding and nearly impossible without the community which has challenged, nurtured, encouraged and loved this couple.
To the community of family, the Harrington's say "thank you for life, values, strength and a support that allows miles to separate us during many special and important moments on the home front. We miss you terribly and love you deeply, we would not and could not be the individuals or the couple we are were it not for your support."
To the community of friends 'stateside', the Harrington's say "we miss you, more than is expressable in words alone. You too are the reason we can take on this adventure and lifestyle with confidence and comfort. You have commented, messaged, emailed and updated us keeping us connected to these freindships which are so dear to us. You are forever on our hearts and in our minds."
To the community of 'expat' friends, the Harrington's say "we couldn't do this without you. Our Korean experience exceeds our expectations because you are here, you are wonderful and you are willing to love us like long-time friends and family in the times we need it most. If we came to Korea, only to meet you, the journey would have been worth it."
To the community of readers and stumble-uponers and such, the Harrington's say "thanks. Thanks for caring. Thanks for researching what you may get yourself into, thanks for increasing our page views because it just feels nice. Thanks for occassional comments and letting us know we've presented something that is useful for you in your planning and preperations."
To the community as a whole, the Harrington's say: "Merry Christmas! Happy New Year! Rest assured that
All is Merry and Brigh
t in Daejeon, South Korea! With Love, The Harringtons"

Merry Christmas Michael Teacher - from Nameson Middle School Students

One students interpretation of Michael Teacher and the 'rendition'
 
Students grades: 3, 4 and 5 wishing you a Merry Christmas with a little
Seoul Christmas Light Show in the middle. Merry Christmas from the ROK!