Once or twice every month, Melissa Harrington takes a peak at the official
Korea Tourism website
. A recent look around the site yielded a pleasant little gem entitled:
Jindo-Sea Parting Festival
. An event which occurs due to the tides and lay of the land which exposes a causeway from Jindo Island to a near-by smaller Island. Legend has it, that Grandma Bbong was stranded on one Island while a tiger ran loose. She prayed to the gods of earth and sea to allow her to rejoin her community of friends and family on the other island and low and behold, the ocean parted and she was free to go. Recently, the event has been coined a second 'name' and is known as the Moses Miracle and draws hundreds of thousands of visitors each year.
For a myriad of reasons, the festival caught the eye and attention of Melissa Harrington and a bit of prodding and reminding of friends and husbands, she found herself in the company of 3 great companions and thousands of intrigued foreigners and Koreans alike.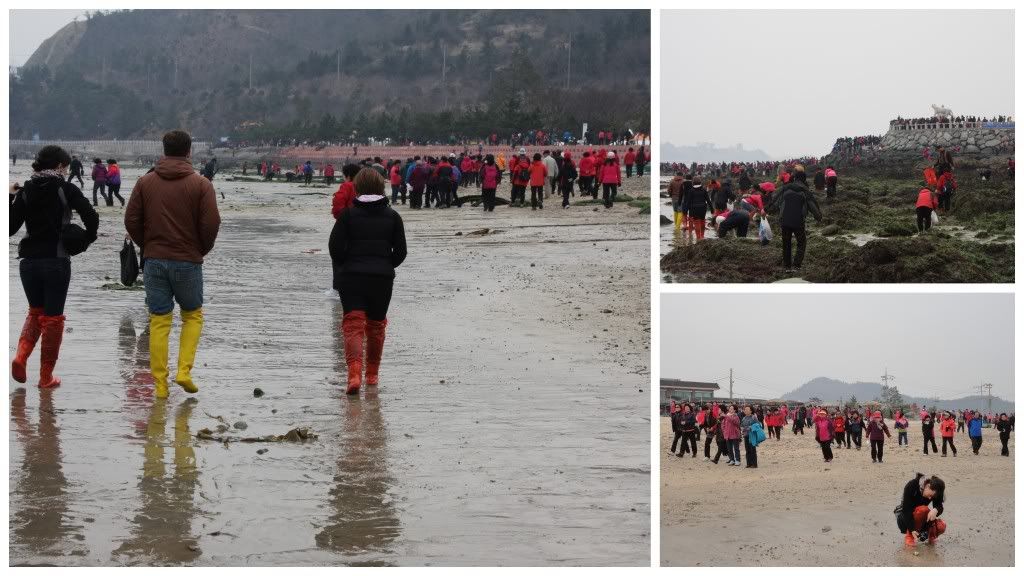 The day was quite hazy and left participants yearning for blue skies, however, the ocean kept it's promise and opened up from one island to the next allowing each attendee of this 'cancelled' festival to trek across the ocean, harvest some seaweed or clams, and enjoy the lovely although hazy day. If you're reading carefully, or happen to live in Korea, you may have heard or realized that this event had been cancelled, by event of course, we mean the festival. Korea has had a recent outbreak of Hoof and Mouth disease which is taken quite seriously, so much so as to cancel festivals as to prevent traveling from one region to the next and spreading the disease. Fortunately, the ocean was still affected by tides, men still arrived to sell thigh-high boots and vendors still showed up to provide hodeok and other snacks for ocean walkers.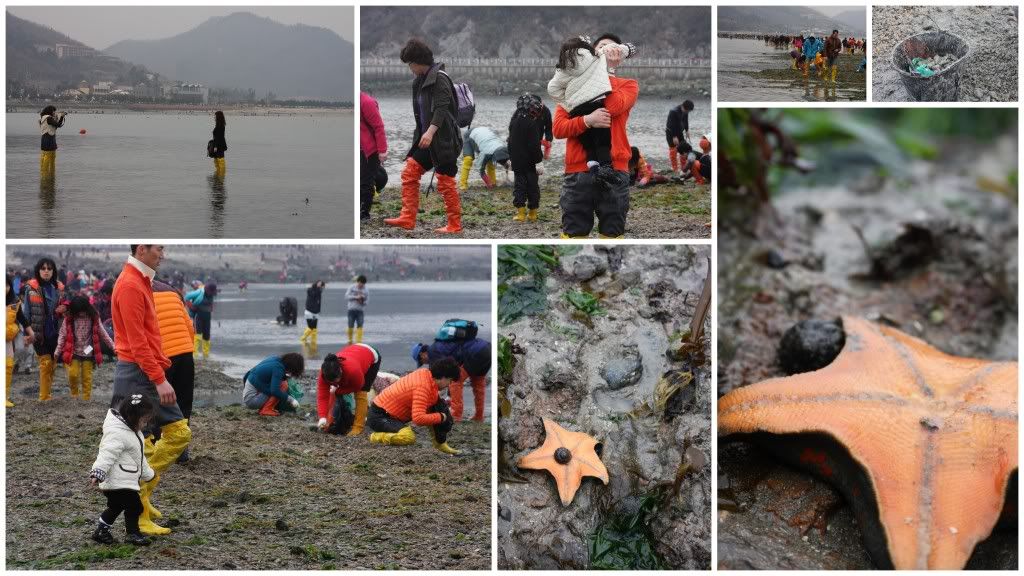 Jindo Island is located in the southeast corner of the peninsula and is Korea's third largest island. The trip to Jindo from Daejeon is not a short one and should be undertaken only by the strong of heart and butt muscle as sitting for such a length of time can be a bit draining. The Harrington's were fortunate to enjoy the convenience of a car while in the company of dear friends but would have happily boarded a bus in order to witness this unique event of the sea and the moon.
Getting There: The primary hub for Jindo Island is Mokpo. Mokpo is accessable by train and bus depending on where you are coming from. From Mokpo, make your way to the bus terminal and head on toward Jindo Island. Once on the Island you should see a tourist information center which can help with the last leg of the trip. Also, numerous buses make the trek to Jindo for this bus, so check out sites such as: Adventure Korea and Meetup.com to see if there's anyone else looking to head your way and enjoy the sights and festivities of Korea!