Following a day in Gangnueng the Harrington's made their way south along the coast of the East Sea or Sea of Japan via the
seaside train
. Opting to 'go with the flow' the Harrington's did not book tickets ahead of time banking on the fact that it was a weekday and winter, they'd get a seat. Turns out, there was a bit of a group going on the same day who had purchased tickets ahead of time leaving our favorite couple one option: The Proposal Room. Already married but falling ever more deeply in love with his bride, Mike agreed to the Proposal Room, turned down the wine and paid a total cost of 30,000W (about $30US) for the couple to enjoy their own private room in the seaside train. (A bit of broken English and sudden understanding led Mike Harrington to realize that wine and other amenities would have added another 20,000W - not an unfair price at all).
With tickets in their hands, the couple soon boarded the seaside train and anticipated a quaint little jaunt down the coast enjoying the view of the sea. Their Proposal Room was cheesily decorated and was a nice backdrop in which to enjoy a few snacks from Tous Les Jours bakery as the train began it's way toward the sea. A primary feature of Korea's seaside train is the positioning of the seats, all facing the sea, and the larger than average windows offering passengers the best possible view of the ocean while making ground toward their next destination. In general, the train ride was rather uneventful. A few stops near some Korean military ships, possibly a North Korean Submarine and a few others odds and ends made for a slower trip to Samcheok than some might wish, but the Harrington's were ever happy to gaze out the window or into one anothers eyes while enjoying the crashing waves out the windows...or city buildings...or mountain sides.
(One common criticism of the seaside train is the occassions when the sea is not visible.)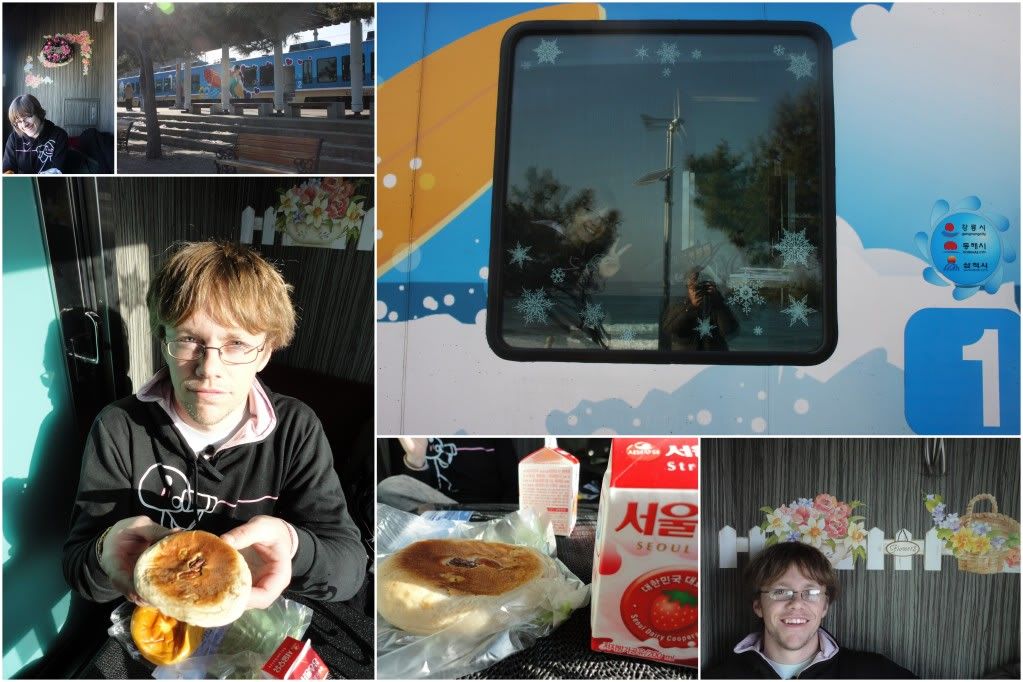 Upon arriving in Samcheok, the Harrington's searched a bit for a place to leave their lugage eventually being instructed to leave it with the men managing the information desk. Happy to do so, the Harrington's set their luggage down and between Korean and English discovered which bus to take in order to arrive in Sin-nam, home of Haesingdang Park, a location worthy of it's own (if not slightly censored) blogpost.
Getting There: Click on Seaside Train at the beginning of this article to be directed to the website for booking. If you're not coherent in Korean, find a Korean friend to help you out!
When to Go: Again, this area of Korea is lovely all year round - winter is definitely an off-ish season (although there is much skiing to be done in the area). Weekends are always busier and likely require booking ahead. Whenever you go, you'll be sure to enjoy the beauty of this area in Korea.