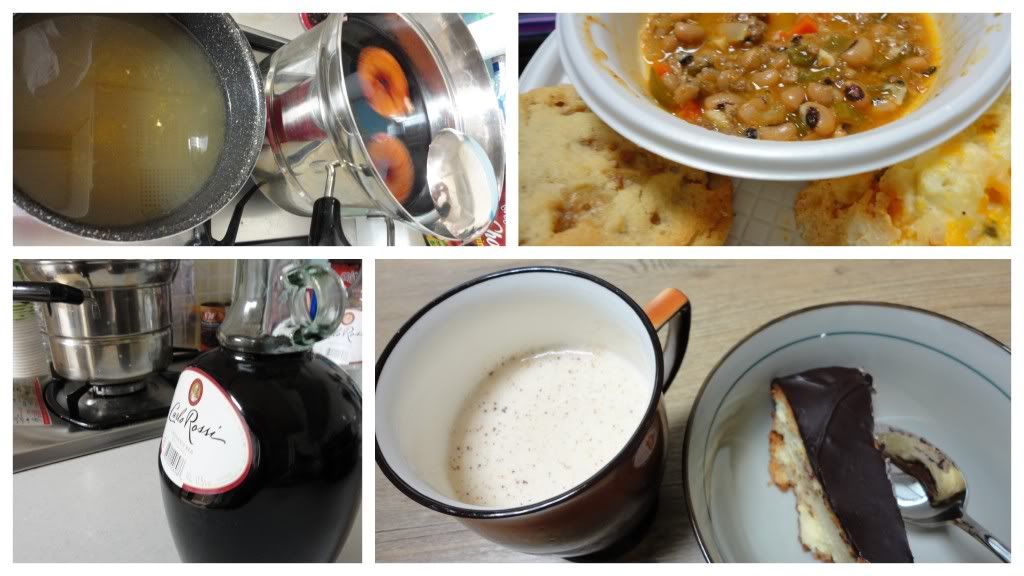 Following the festivities of
Christmas Morning
, Melissa delegated herself to the kitchen while Mike and Haleh made their way to E-Mart for some 'last minute shopping' of White Elephant gifts and a few odds and ends. In the kitchen Melissa threw together a Black-Eyed Peas Chili, Mulled Pear Cider, Mulled Wine and Eggnog -- which would be accompanied by the potluck goodness of cheesy mashed potatoes, roaster chicken, cookies, boston creme pie, Coke and Whiskey, 'Cider' (aka 7Up), black olives, homemade hummus with veggies and a grand ole heap of cheerfulness.
Along with potluck dishes, the Harrington's began welcoming guests into their home at approximately 4:00 in the afternoon. In attendance were: Mike and Melissa of Wyoming, Haleh of Colorado, Brian of Massachusetts, Aaron of New Hampshire, Kolt and Holly of California-ish, Josiah and Jenelle of Indiana/Idaho, Matt and Jen of Wyoming, and Jon and Whitney of North Carolina. With all parties accounted for, the festivities began! Eating, game-playing and gift exchanging were central to the evenings celebration.
Regardless of being thousands of miles from home, the Harrington's (and hopefully their expat friends) were able to enjoy the Christmas Holiday with a 'make-shift' family that has offered as much friendship, support, love and company as anyone could ask for when living in a foreign land. The group may not share a family line, but each has become a valuable member of this 'Korean Family' which the Harrington's will forever be grateful to call 'their own'.
From the publishers of The Harrington Times, we hope you had yourself a "Merry little Christmas" with family or friends who love and cherish you dearly.