Winter is a season which always brings about a deep desire to retreat to a private beach and enjoy the sunshine. The Harrington's were no exception to this desire however their day at the beach would more closely reflect an hour at the beach and be enjoyed while wearing hats, scarves, gloves, heavy coats and boots. On Wednesday, January 19th the Harrington's boarded a bus and made their way from Chuncheon to Gangnueng, South Korea.

Upon arrival in Gangnueng, the couple found a little shop keeper with some lockers to store their belongings at the Bus Terminal while they meandered the city. Anxious to have a bit of a beach experience the couple hopped in a taxi and soon found themselves face-to-face with the Sea of Japan. With the lunch hour nearly setting in, the couple stopped by a vendor and enjoyed a significant hunk of Crab meat, breaded and fried served with ketchup, much like a corn-dog, before taking a number of photos on the beach.
Beach Times
Having 'soaked up the sun' the Harrington's began walking back toward the city. Their walk led them alonside a quaint little river and a quarky (yet Amazing) gramaphone/Thomas Eddison Museum. With nothing but time to kill, the couple entered the museum and were amazed by the sights, stories and souds of old gramaphones. This museum showcased many aspects of American culture that took on a much more novel and nostalgic feel in their Gangnueng, South Korea placement.
Having read about a certain cafe in the Lonely Planet Guidebook as well as being encouraged by a Korean-New Zealander to check it out, the Harrington's followed up their museum visit by hopping in a cab and making their way to Terrarosa Cafe. For coffee lovers in Korea, this is perhaps a 'must' (neither Harrington is a coffee lover, so the determination of 'must' is subject to argument). However, the cafe roasts and prepares their own beans serving them up with delectable little sandwiches or sweets. The cafe also houses a delicious variety of breads which may or may not be worth it depending on who you are. Unfortunately, the cafe is located a bit out of town and from the Museum to the cafe one must cross the entire city and drive some backroads which, for the Harrington's entailed a 15,000W taxi ride. Since the couple is not particularly fond of coffee - Mike in particular, was not thrilled by this price of arrival.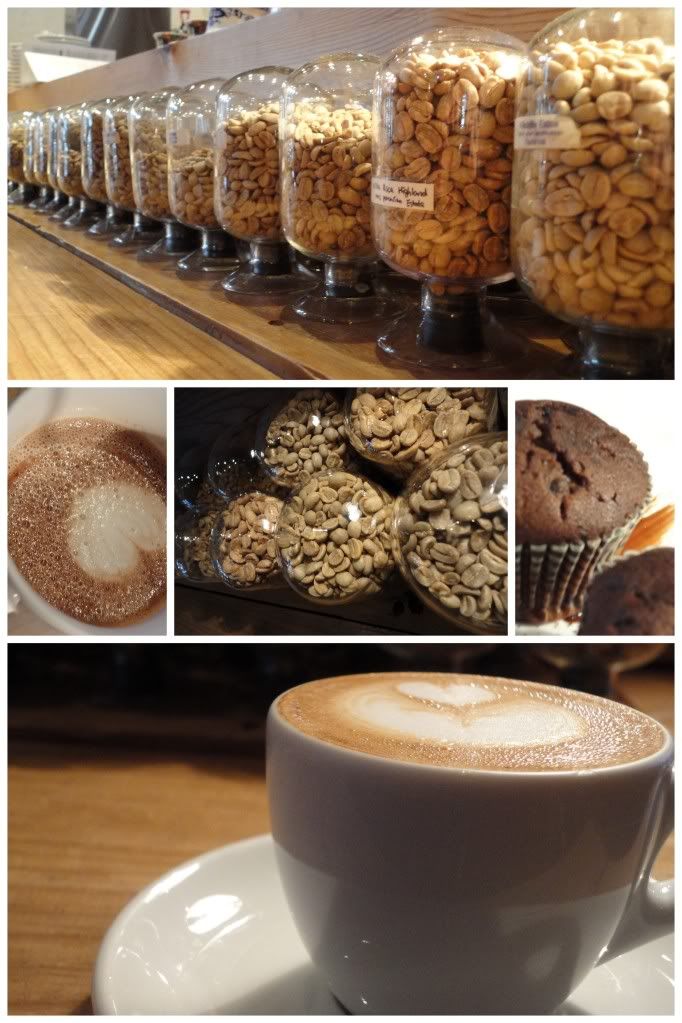 Terrarosa Coffe House

Not Thrilled
So it was, following a cup of hot choco for Mike and an Espresso Macciato for Melissa, the couple began walking back into town, contemplating hitchiking. As packs began to feel heavy and the air increasingly cold, Mike Harrington began venturing out with his thumb in the air, unsure of the results. Many cars passed on by yet eventually, one pulled over. In that moment, the Harrington's began their first hitching experience for a 10 minute drive into town. Their driver? An off-duty police officer from the city on his way to pick up his 6 year old son from private school. Arriving at the bus terminal, the Harrington's driver was adamant that the couple stay the night with him and his family, after a bit of miming and a few English words mixed with Korean, the Harrington's explained they'd be staying with a friend but thanked their driver profusely before heading into the bus terminal to wait for their friend, a
CouchSurfing host
.
Getting There: Once again, Inter-City Bus Terminals are the way to go. If you haven't been travelling by bus and already find yourself at one just hop in a cab and say - bu-su-ter-mi-nal and you should arrive in no time. If it's a weekday or off-season you should have no problem getting a ticket for the next bus en route to your destination. If 'flying by the seat of your pants' isn't your thing, check out this site for schedules and prices:
http://www.kobus.co.kr/web/eng/index.jsp
When to Go: It's a beautiful city, gorgeous all year round, surely! However, if it's the beach your after, try summer or early fall. Better yet, make a long weekend or normal weekend out of the trip and make your way to nearby Seoraksan National Park for what is rumoured to be the most beautiful display of fall colors in South Korea.