Every good day of vacation begins with something warm and sweet to drink. It was a desire for such a start to the day that took Melissa Harrington and Haleh to yet another Korean coffee-chain, Angel-in-Us Coffee: World Best Coffee. The warmth and deliciousness of their Maple Machiattos was made increasingly pleasurable with the fluffy white snowflakes beginning to fall on a lazy Tuesday morning. Much to the prodding and encouragement of Mike Harrington, who would be spending the day inside conducting Winter English Camp, the ladies decided to head to
Gyeryong-San National Park
to enjoy the snowy landscape, a Korean Temple and a bit of Korean hiking food.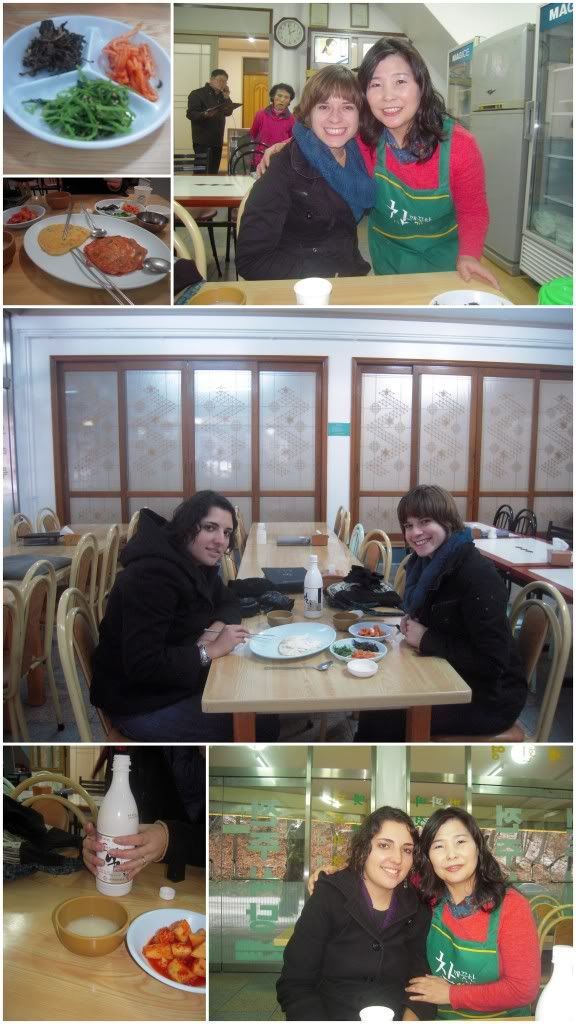 After a short hike in the increasingly slushy snow the ladies stopped in to dine where a restaurateur had earlier pleaded that they return. Willing to appease the restaurant operator, the ladies sat down for some makoli, fried eggs, kimchi pancakes and assorted Korean sides while the restaurant staff sang songs, danced dances and asked a few questions regarding the ladies origins, purposes in Korea, Gyeryong-San, etc. It was a superbly Korean moment with great food and new friends.
Returning home, the girls would find themselves lying down on the warm floor of a '519' Apartment before boarding the subway to meet up with a couple Teacher friends for some 'failed' thrifting opportunities. With only 10 minutes before closing at the Beautiful Store and an unfortunate case of 'early closing' by Vintage, the group of four thrifters were left without any good purchases yet conveniently located to meet up with Mike Harrington and enjoy another pork themed dinner at the Harrington's favorite pork restaurant -- Ssada Pork Village. So with a grill filled with saucy pork the Harrington's along with their friends the Shaw's and Haleh enjoyed another round of 'lettuce-wrapped' meat followed by the reason Ssada Pork is a favorite: Rice mixed with kimchi, bean sprouts, kim and a pocket of cheese which waits to volcano on out of the rice pile after having melted all the way through. The absolute best ending to a day in the beautiful yet chilly outdoors.