The month of March provided great opportunities for Melissa Harrington to meet up with friends at some new and some tried and true coffee shops to enjoy conversation and cups of joe.
Early on in the month, English teachers in Korea had the privelege of a National Holiday and enjoyed March 1st by avoiding the cold English classrooms and textbooks and engaging in their choice of fine activities. For Melissa Harrington and some lady friends that looked like sleeping in and meeting up for an early afternoon cup of coffee in
Eunhang-dong
. Having cought the crews eye on numerous occassions, the girls made their way up the stairs into the 2nd floor coffee shop: Crazy Coffee Cats. Don't let the name decieve you, this is
not
a Korean
cat cafe
, but rather a cafe decorated in the style of a 'crazy cat woman' with a touch more class, colorful mugs and sprinkles on top.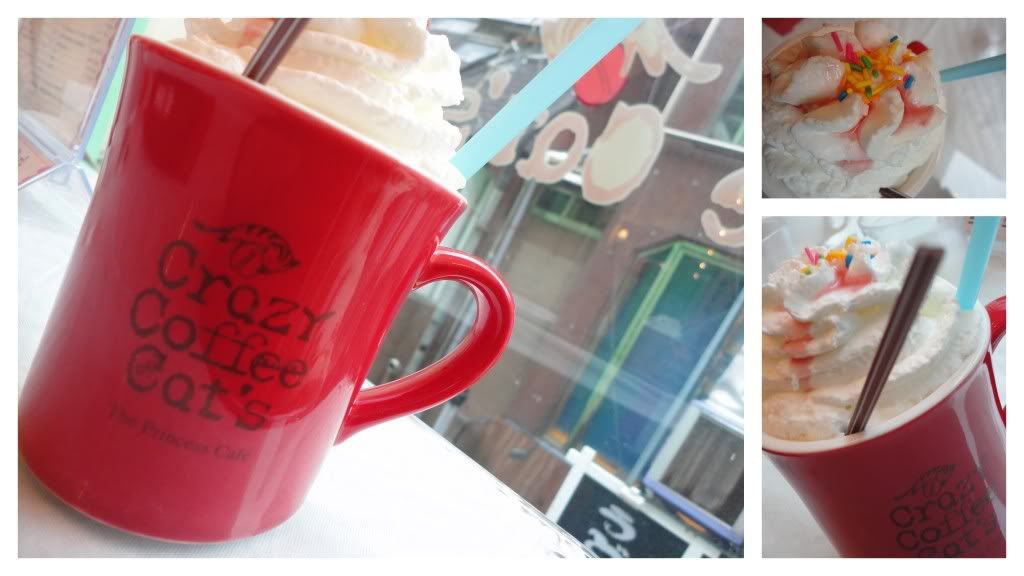 Crazy Coffee Cats
Raspberry Mocha
Getting There: Eunhang-dong is the old downtown and has great access by bus and subway. By subway get off at Jung-angro. A few buses which make the route include: Once in Eunhang-dong make your way toward any of the following and you're sure to find Crazy Coffe Cat's -- Sum Sin Dang Bakery (?), S-Dot stationary store, The Flying Pan, the rows of Street Food Vendors.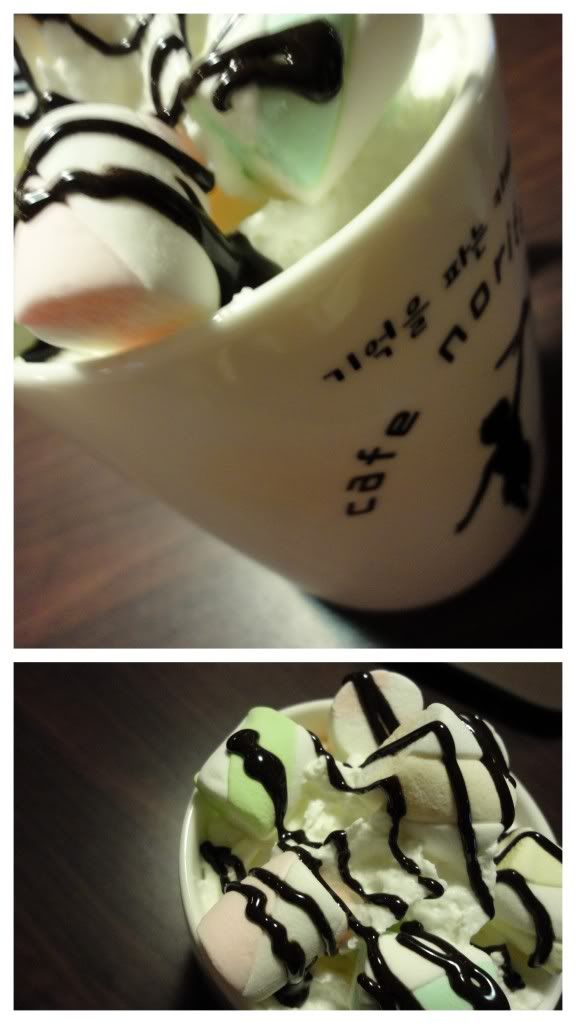 Noriter
Marshmallow Hot Choco
 In Gung-dong this month, the Harrington's and friends all enjoyed an evening at Noriter which you may remember from
February's post
. This time, a great mug of Hot Choco was enjoyed with fluffy, colorful marshmallows on top. Noriter is a sure bet for a coffee shop any day of the week.
Also discovered in Gung-dong this past month was Kairos Coffee. A newly built and established shop which skirts a little park area in the Gung-dong neighborhood and shares the vicinity of multiple coffee shops. The interior is more modern, clean and chic than some of the other coffee shops featured and, of course, the coffee was enjoyable and each cup comes with a little chocolate treat, making for an enjoyable and sweet experience.

Cafe Latte
Kairos Coffee
Getting There: Gung-dong is accessable by buses: 113, 105, 102, 104, 106, 108 and 706 - just to name a few. Once in the neighborhood, enjoy wandering the streets until you find the coffee shop you are looking for!

Chai Latte
CofFine: Gurunaru
 The month's coffee excursions were topped of by this great find in Dunsan-dong. Recently built/established CofFine is a great little coffee shop with a wide variety of coffee beverages, tea drinks, iced drinks and even wine. In addition, as part of their grand opening celebration, Melissa and her two lovely friends Holly and Jenelle scored a CofFine cell phone charm which will earn the customer a free 'upgrade' - small to regular - That's AWESOME!
Getting There: Arrive in Dunsan-dong by bus or subway and meander the streets in between E-mart and Time World, hopefully then, you'll stumble upon this corner coffee shop with many wonderful drink options!