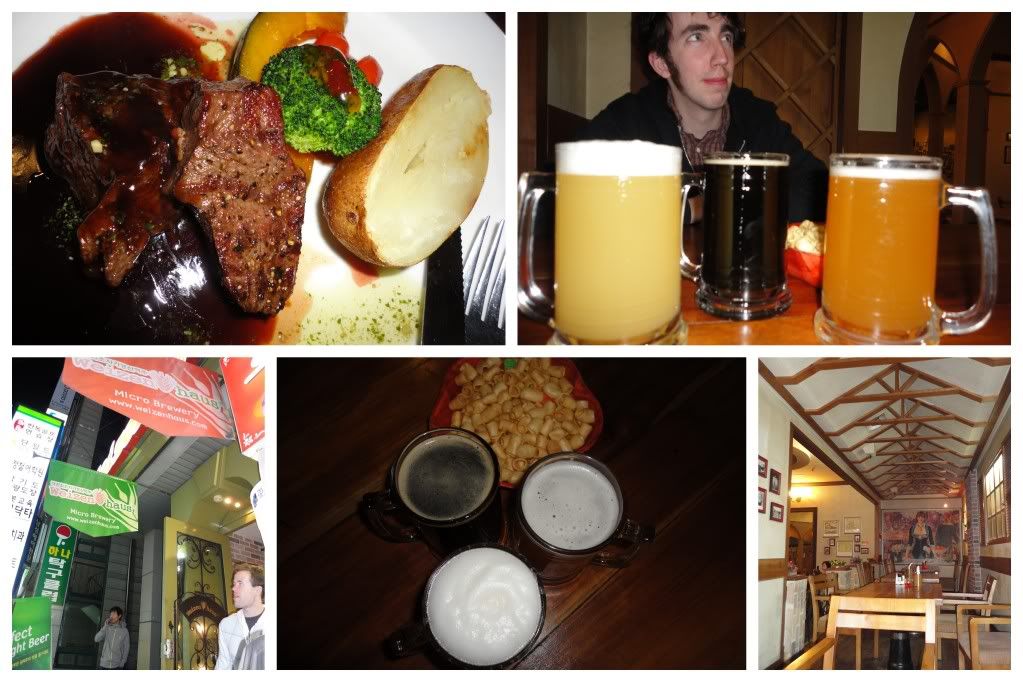 On Monday, April 4th the Harrington's met up with a few friends to check out a rumored brewery. Since their arrival, the Harrington's had heard mixed reviews regarding the Weizenhaus and had come to believe it was no longer in operation as a micro-brewery. Fortunately, on April 4th, the Harrington's were proven wrong and they stepped into the basement establishment where they were amazed by the size of the restaurant and were eager to sit down, order a brew and enjoy some grub and drink.
For brews, the Weizenhaus offers what appears to be a stout (amazingly chocolatey and rich), a lighter ale or heff (refreshing and crisp) and a pale-golden brew(vinegary and the #3 pick of the Harrington's and crew). In addition, drinkers can choose to dine on french fries, wings or a delectable steak dinner.
Brews were fairly priced at 3,000 - 5,000 Won for 300cc-500cc respectively. Each of the diners chose the small steak dinner for just under 10,000W but could have managed a larger chunk of meat for 15,000W. Overall, the Weizenhaus is a win for a night out or a change up from the good ole Cass, Hite and Max which are the norm for the Korean drinking experience.
Getting There: (hopefully) Closest to Galma Station and Government Complex Station. From Government Complex Station go out exit three, walk strait and cross the street. After crossing turn right, walk 2 blocks (cross two streets) and turn left at the CGV. Walk strait for two blocks (cross one street) and look for the Weizenhaus sign on the South (left) side of the street.
From Galma Station go out exit 4, walk strait and cross the street. Turn left, and walk two blocks (cross one street) and turn right. Walk one block and cross the street. The Weizzenhaus sign is on the South (right) side of the street just after crossing. Enjoy.