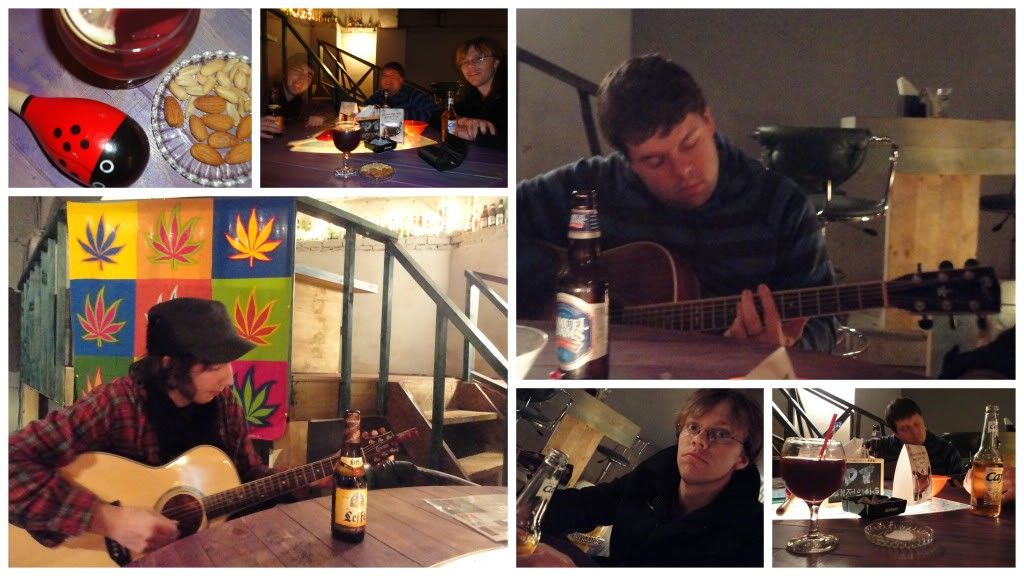 If you've been with The Harrington Times for long or more specifically during the last few months of their time in South Korea, you are surely familiar with references to Gung-dong, a neighborhood near Chungnam National University that is full of cheap eats,
numerous coffee shops
and plenty of amazing finds.
Many foreigners in Daejeon are familiar with Santa Claus and in small part thanks to THT,
Taco-K
in the Gung-dong neighbor hood but perhaps, in your desire to attend such well-established joints you've missed out on another night-life gem: Howl at the Moon.
Howl at the Moon is a bar which speaks deeply to those with musical talents, such as dear friends of the Harrington's Aaron and Brian. The bar features 'pick' shaped tables as well as a larger 'guitar' shaped table. Another musically inclined feature are the instruments available for strumming or shaking (particularly if you are the only customers). One highlight of the bar that the Harrington's and friends have yet to participate in, yet anticipate is Wednesday night Open Mic nights. While Mike and Melissa are by no means musical artists, they do enjoy hearing others express their musical talents and hope to attend on a Wednesday night and enjoy the full musical experience this bar has to offer.
Update: Readers may have been asking themselves: Why is the title of the post 'Falling Slowly into Howl at the Moon?' Well, wonder no longer, the reason for such a title is evidenced in the following video, an impromptu performance of the song "Fally Slowly" from the movie Once. Enjoy.
Getting There: Gung dong is accessable by the following buses: 105, 104, 113, 106, 108, 706 and others. The most common stop name will be Chungnam Dae Hak-gyo. Howl at the Moon is down the street, toward the University, from both Santa Claus and Taco K.