Awaking on Christmas morning, each member of the Harrington clan investigated their respective stocking which were lined along the couch, with care. Filled with the cuteness and greatness that only Asia can afford the Harrington clan was soon ready to pop a
Gingerbread Scone
in their mouth, shower and head to the airport and begin the trek into Seoul.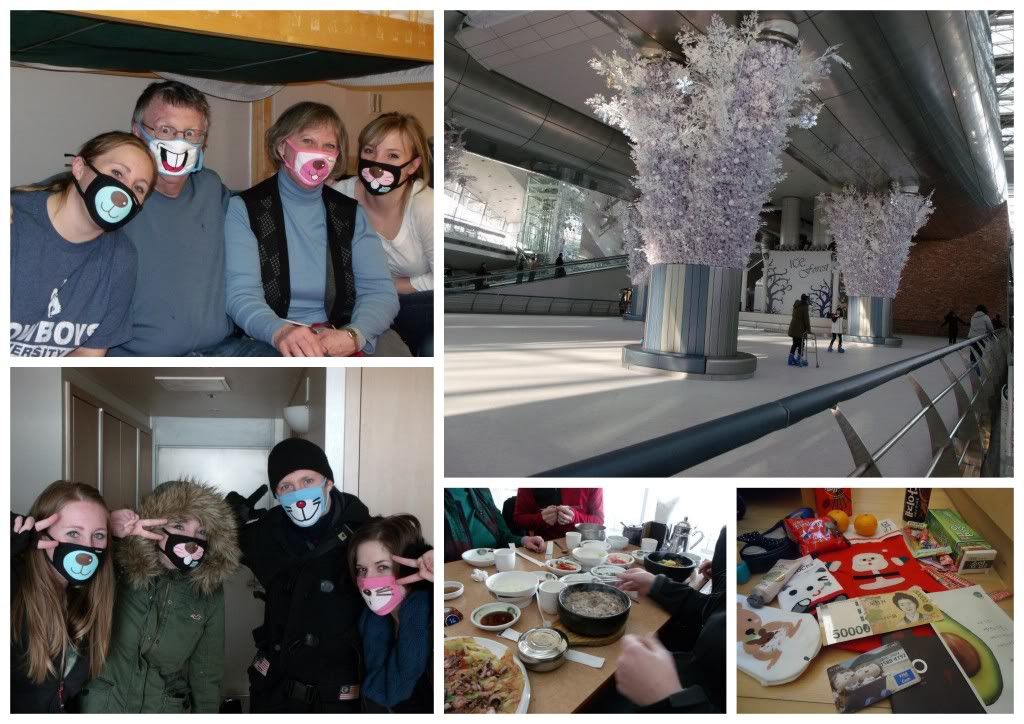 From Incheon Airport the crew loaded onto the Airport Express (AREX) train and found themselves disembarking at Seoul Station 50 minutes later. Intending to lock up some luggage, grab a bite to eat and explore the city to celebrate Christmas the Harrington's were soon faced with the reality that every locker in the train station and neighboring department store were occupied. Bellies growling, the crew made their way to a Korean restaurant in the station, hoping after an hour they'd find the locker space needed. Lunch allowed the visiting Harrington's to enjoy a variety of Korean dishes including Dolsot (hot stone pot) and Raw Beef Bibimbap (rice, veggies, spicy sauce), Galbitang (beef rib soup with sweet potato noodles) Bulgogi 'something-or-other' (marinaded beef in broth with sweet potato noodles), Paejeon (Korean style pancake, this one with octopus) and the usual gamut of side dishes including kimchi, radish kimchi and various greens.
Following up their lunch, the locker hunt continued. Unfortunately, lockers were still unavailable and the crew opted to board the KTX and make way for Daejeon and a 'homey' Christmas celebration at 519 Galma. Entering 519 Galma the Harrington's were quickly introduced to the grandaughter and neice, Lady Annyeong. There was no shortage of 'puppy' love between the two legged and 3.5 legged creatures and Lady continued to enjoy a week of high-frequency love, affection and attention.
Together, the Harrington's gathered around the Christmas tree, snacked on cheese and
crackers
and opened a wealth of Christmas gifts. Following this gift unwrapping ceremony the Harrington's enjoyed a nice stroll to Time World where they made their way into a glass elevator and to Manna House to enjoy a dinner of shabu-shabu (that is, in English, swish-swish) before grabbing a Paris Baguette Christmas Cake (courtesy of M&M's phone company) and hitting up the no-rae bang for a few Christmas Carols, Beatles tunes and of course Sweet Caroline. Overflowing with Christmas joy and ready to dig into the lovely Christmas Cake it was back to 519 Galma for cake, homemade eggnog and a rockus game of Redneck Life before calling it a day and drifting off to sleep.