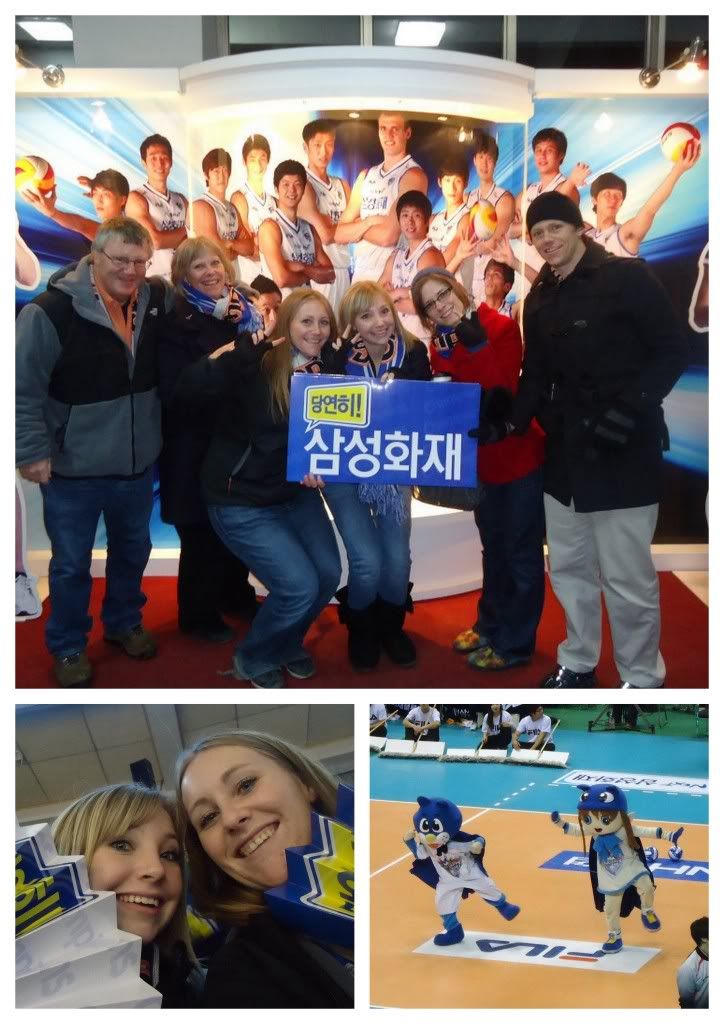 Following traditional markets and ice-bars, the Harrington's made their way to the Hanbat Stadium to cheer on Daejeon's most impressive sports team, the Samsung Blue Fangs. With all-star beast of a Canadian Gavin on the team Samsung Blue Fangs consistently put on an amazing show of athleticism and competition. Mike and Melissa were excited to show off their 'home-town pride' and introduce the rest of the family to an experience which is unique to the world of Korean sporting events.
Arriving about half an hour early the Harrington's watched the girls team finish out their game before being instructed in a wide variety of cheers which would soon be used to bring the Samsung Blue Fangs to a victory. Elaborate cheers and accompanying actions were a constant as the Harrington's watched volley after volley, spike after spike and serve after serve. The best break from these routines came from the Blue Fangs mascots who pulled off a stunning combination of K-pop style dance routine, gymnastics and break-dancing. All in a night's work for the Samsung Blue Fangs team and supportive mascots.
Getting There: Hanbat Stadium is nearest to Subway station Jugan-no. Exit 3 perhaps (which ever takes you opposite of the Flying Pan and past Angels-in-Us Coffee/The Mill). From here it's about a 10-15 minute walk, or numerous buses head in that general direction or for base taxi fare you can request Hanbat Stadium (stadium = 

경기장 = gyeong-gi-jang)
Blue Fangs Schedule is available here.