As Wednesday rolled around the Harrington clan began to feel a stronger sense of grace from at least one of the work institutions and after making a
guest appearance at Samcheon Elementary School
, the visiting Harringtons were honored to have a tour guide, in the form of Melissa Harrington, join them for exploring a nearby National Park. Their visit to the elementary school was highlighted by shy students shouting out their hellos and asking about favorite foods, actors and hobbies. They also had the pleasure of meeting the Vice Principal and a couple Korean teachers who best exemplified Korean hospitality.
After a few cups of tea, tangerines and other snacks the Harrington's made their way to City Hall Station by bus in order to head to the National Cemetary Sub station and catch the 107 for Gyreongsan (National Park) and Donghaksa (Temple) where the crew would spend the afternoon enjoying the great landscape of South Korea.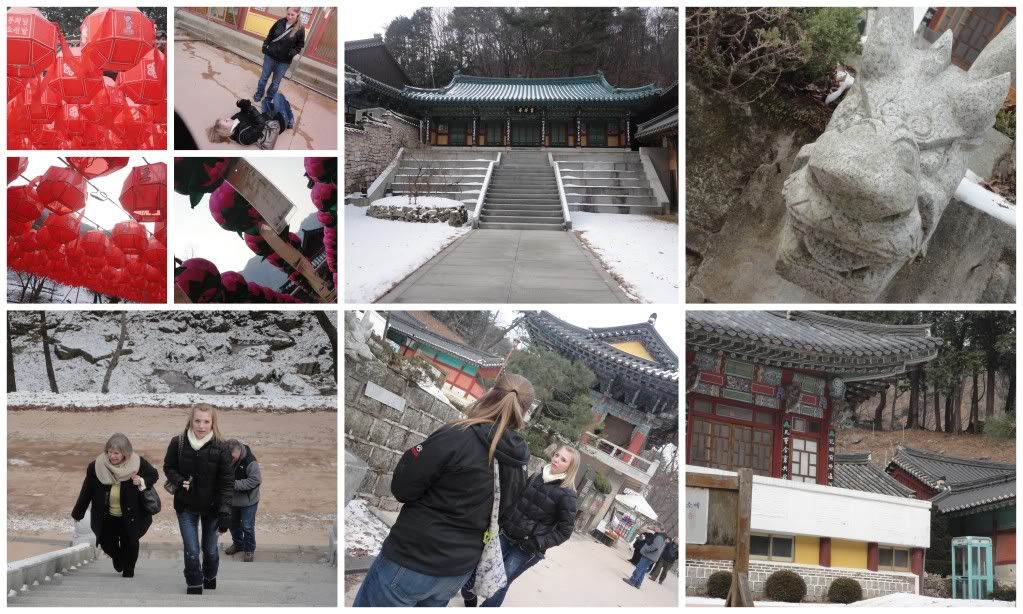 After enjoying an afternoon of meandering and snacking (lightly) on some chestnuts (this day there were strict rule regarding snacks as the planned dinner was known to be quite large and hearty as readers will soon see) the group boarded the 107 and made their way back to 519 Galma for a touch of rest before reuniting with Mike and making their way to Mannyeong-dong to enjoy a wide range of Korean fair and the spectacularly sticky and earthy bamboo rice.
Near Seoranam Church the bamboo rice restaurant offers an introduction to a number of Korean dishes including an amazing take on Japchae, numerous raw fish dishes and equally numerous fermented dishes. The meal is concluded with each diners choice of either rice steamed in a partial shoot of bamboo (which you can take as a souvenier and use to plant some flowers or hold your pens and pencils) or steamed in a large leaf - either option is equally earthy, delicious and a pleasant variant of the 'everyday' rice one is accustomed to in Korea.
The meal was further enjoyed as one of Melissa's co-teachers, Nam Hwa Sook and her daughter, Park Young-ah, joined the Harrington's and shared the evening discussing travels abroad, cultural quirks and breaking down the various dishes set out on the table. As each member of the clan worked those last few bites of rice into their mouths they were secretly grateful for the harsh rules regarding snacks that day and all rested well that evening with overstuffed bellies.